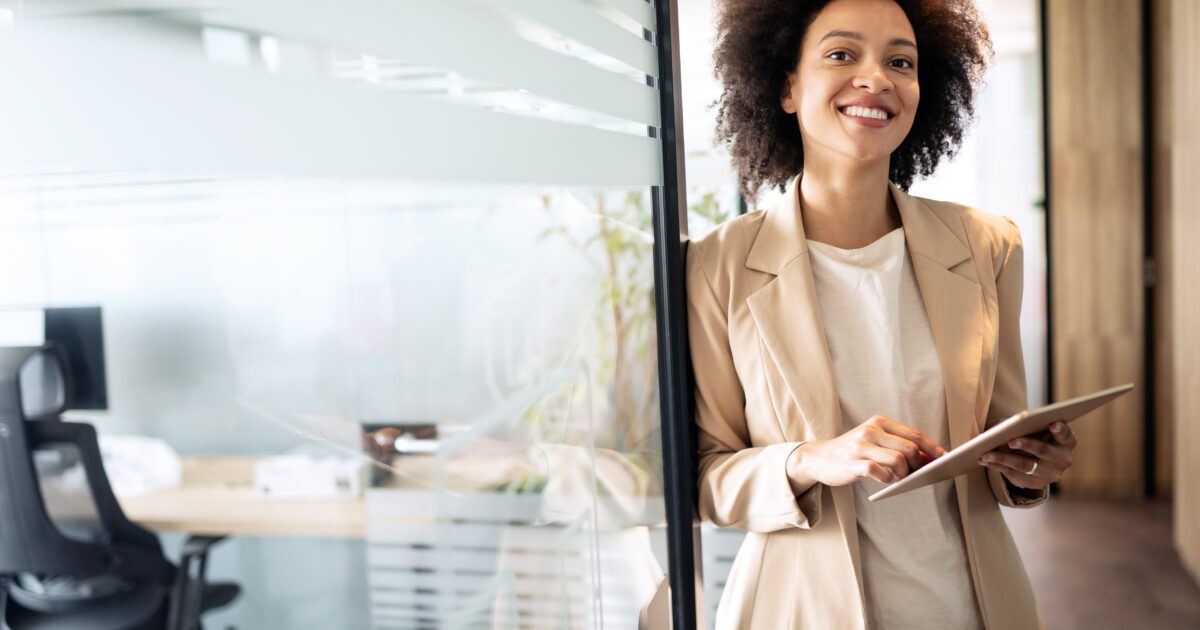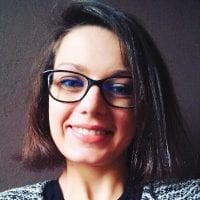 Anna Popek
19.12.2022 • 4 minutes reading
5 key features of an employee app for finance  
Knowledge management is one of the most important internal processes at banks. An employee app for finance can streamline it, giving employees the support they need to provide top-notch service to customers.
Every day, bank employees take on a huge amount of responsibility for the funds that customers entrust to them. The sheer volume of knowledge, including the ever-changing laws and regulations that go into changing banking products, can be overwhelming. Both back office and frontline workers cannot afford to be confused or uninformed. The employee app for finance is an excellent addition to the knowledge management process at any financial institution, as it allows for quick and secure knowledge sharing and gives access to all the documents necessary in the customer service process.
The finance industry in the time of crisis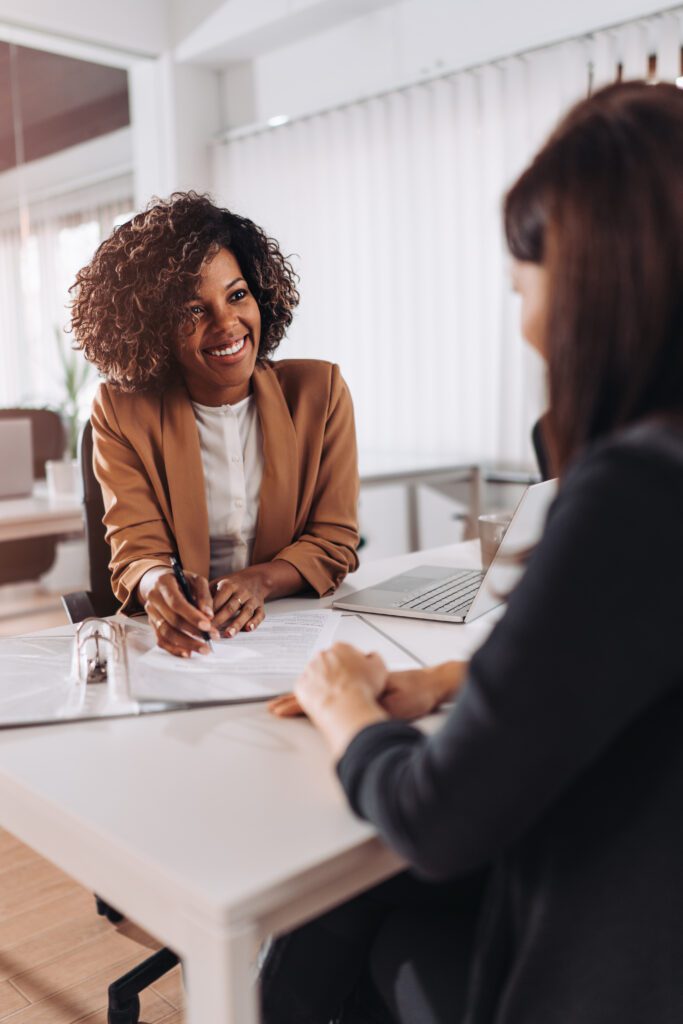 The consulting agency Deloitte forecasts that the main challenge for the financial sector in the coming months will obviously be the economic slowdown. At the same time, Deloitte experts point out that what will allow banks to maintain their competitive edge is "an even broader engagement to digitization and consumer advice." On the one hand, banks must have access to the broadest possible knowledge to support their customers. On the other, investing in modern technologies, including mobile technologies such as employee apps will speed up these processes and allow them to manage the available knowledge even better. Indeed, will employee apps for finance provide such support? Yes, if banks choose the right tools.
How to streamline knowledge management in banks with an employee app for finance?
What should an employee app for finance have in order to fulfill its purpose? Its role is to increase operational efficiency and improve the digital experience of employees, which impacts the quality of customer service. This happens through:
#1 Feed personalization – automatic tailoring of content to the user's needs and preferences, so familiar to traditional social media, will work well in a dynamic and demanding financial environment. In the Workai Mobile employee app for finance, the user has the fastest access to content he has already browsed, tagged as interesting or most useful. He can also tag categories of his choice, such as regulations, rules, or product descriptions.
#2 Notifications system – employee app for finance automatically reminds the employee of any updates or informs of new content in subscribed categories. This includes new comments under articles. The notifications system also sends notifications from other apps, synchronized with the internal intranet, making the flow even smoother and more reliable.
#3 AI-powered search engine – managing and processing a huge financial knowledge base, constantly being expanded and updated seems impossible without proper AI support. An employee app for finance must have a fast and reliable search engine that will instantly provide employees with any information, documents, files, or contacts. In the financial world, the reliability of AI-powered search engine means top-notch service and more informed decision-making based on up-to-date knowledge.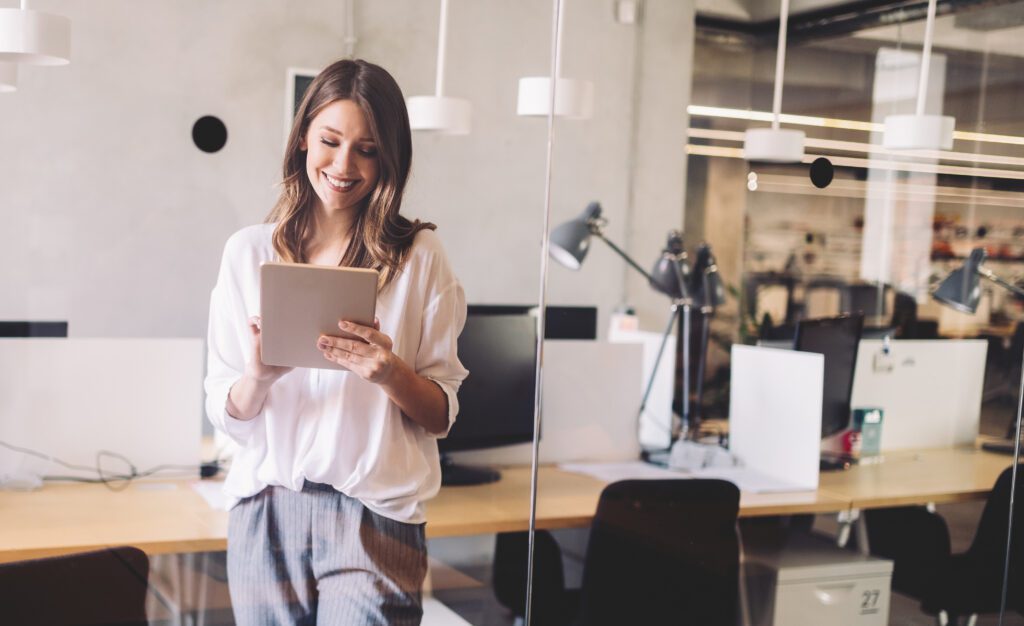 #4 Communications channels – the backbone of any industry, especially the financial industry, is fast and efficient communication and information flow between employees and teams. Employee app for finance provides employees with a secure and convenient way to share expertise and deepen relationships with colleagues through an internal communication system.
#5 Knowledge base – mobile employee app for finance can become the main knowledge management center for employees – always available, with verified knowledge and up-to-date news from outside and inside the organization. It can house the entire spectrum of knowledge that was previously scattered: files, regulations, ordinances, offers, FAQs, expert opinions, and contact information about clients and coworkers.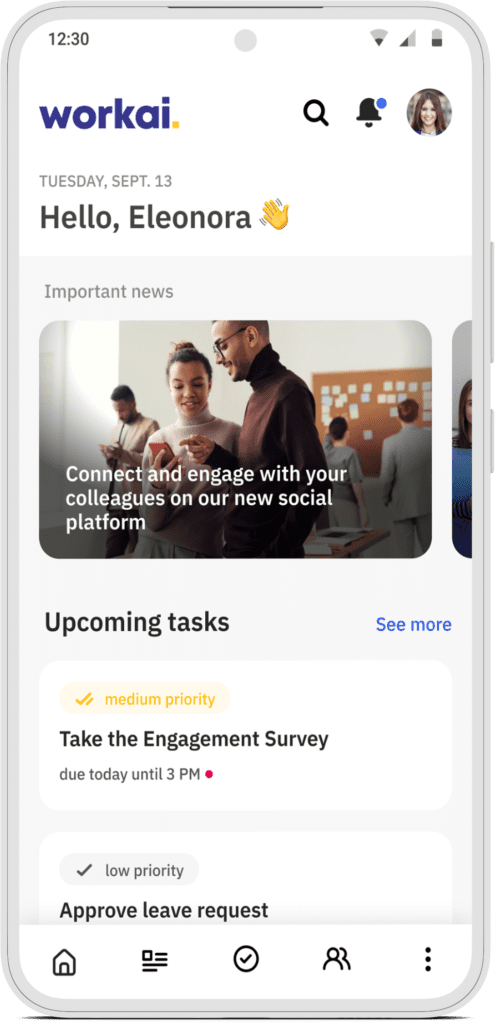 Workai Mobile – the best employee app for finance
Is Workai Mobile the best employee app for finance? The facts speak for themselves. We have been supporting communication in distributed financial institutions for years and our app was included in the ClearBox TOP 15 mobile employee apps report only one month after its launch!
Making your workplace
work for you
A complete, intelligent solution, allowing you to empower your team, get more done, and work better together.