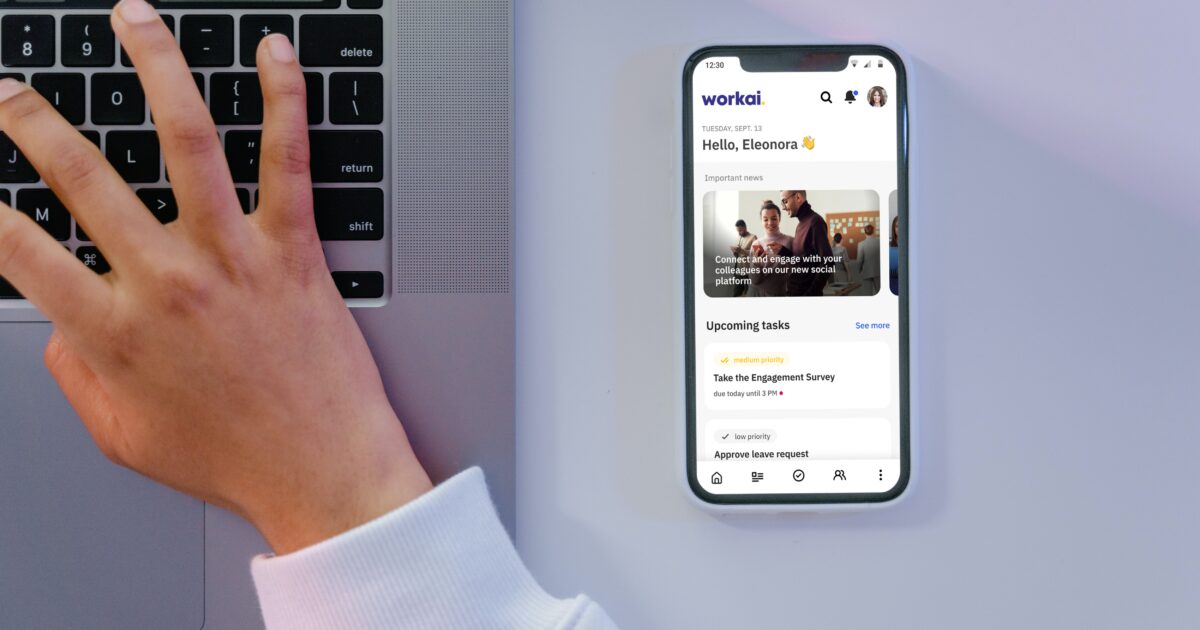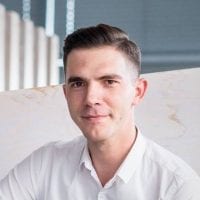 Grzegorz Ciwoniuk
14.09.2022 • 5 minutes reading
Workai Mobile: Employee App to engage frontline workers
Workai Mobile is a new addition to the Workai Employee Experience Platform – an Employee App that helps organizations of any size and industry to effectively communicate and engage remote and frontline workers.
For employees, it's a one-stop app to get company information, news, and events. Connect with co-workers through the internal social network, provide feedback, search for people and knowledge, develop skills, plan work and get things done.
Dashboard – your hub of information, tasks, and shortcuts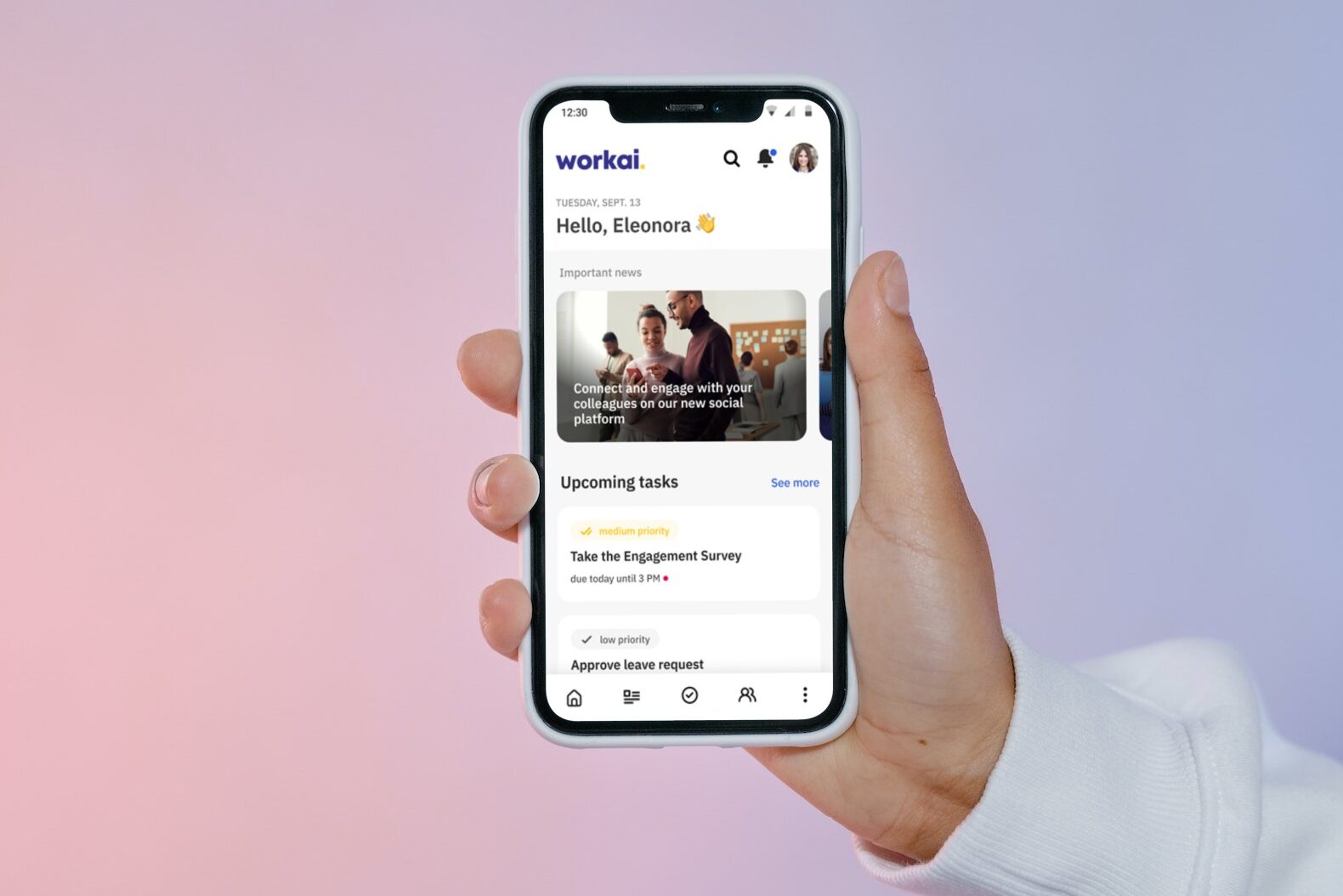 Workai Mobile Dashboard is a convenient place to start a work day with:
important company news and announcements at the top to quickly browse what's new,
upcoming tasks – a to-do list of activities, sorted by priority,
links and shortcuts – jump right to the most frequently used app, doc, or website.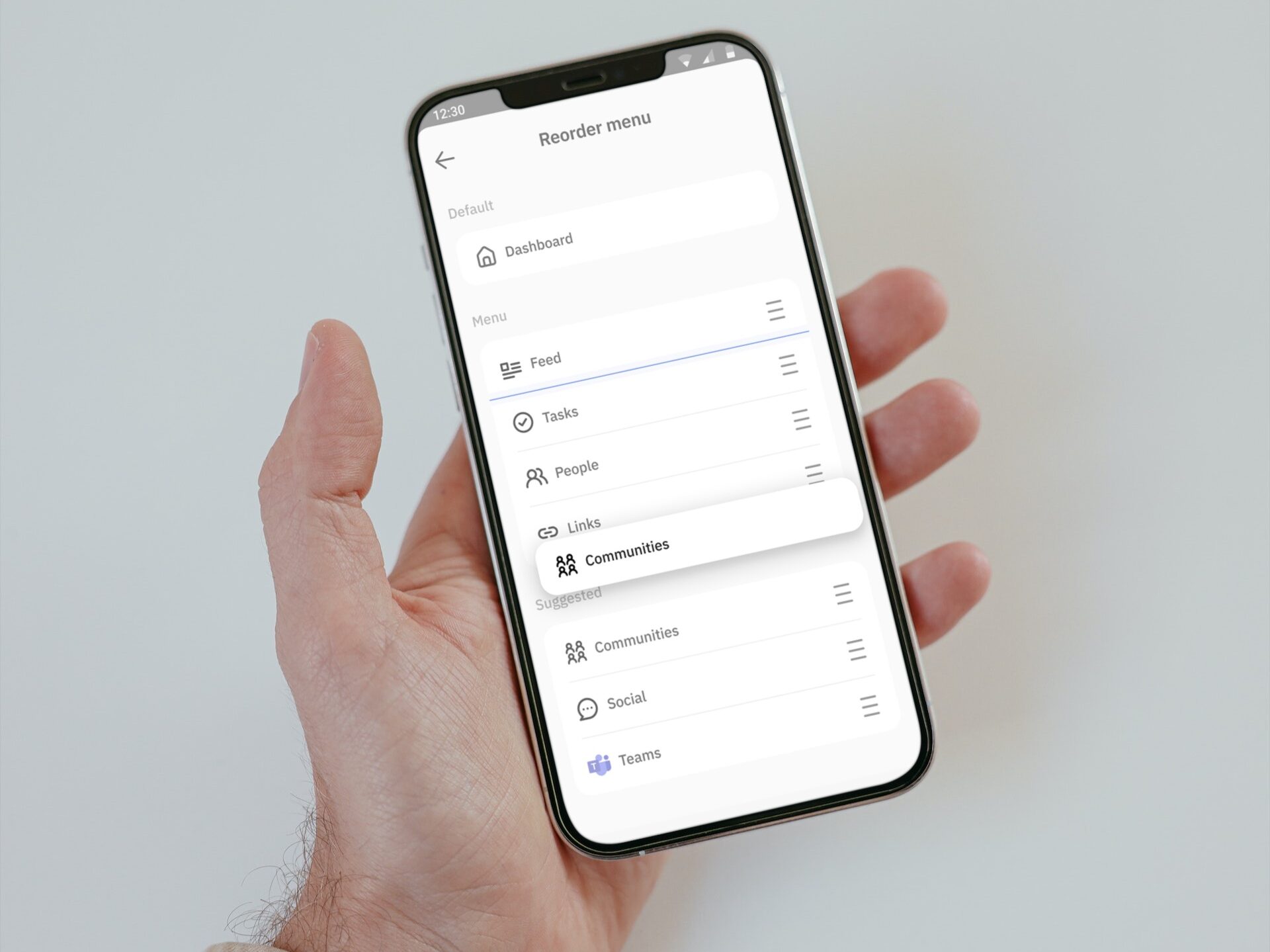 To personalize the Employee Experience, organizations can customize the Dashboard and bottom navigation: set up icons and links – to internal or external apps, websites, intranet pages, and more.
Employee App users can then customize the content of the bottom navigation by reordering elements to fit their unique work style.
Feed – personalized company updates to read now or save for later
No Employee App cannot be considered complete without company updates. Workai Mobile takes things to another level: it provides a Feed of News, Events, Videos, Recruitments, Publications, and many other unique content types tailored to specific use-case. A small dot indicates unread content, so users always know which content is new.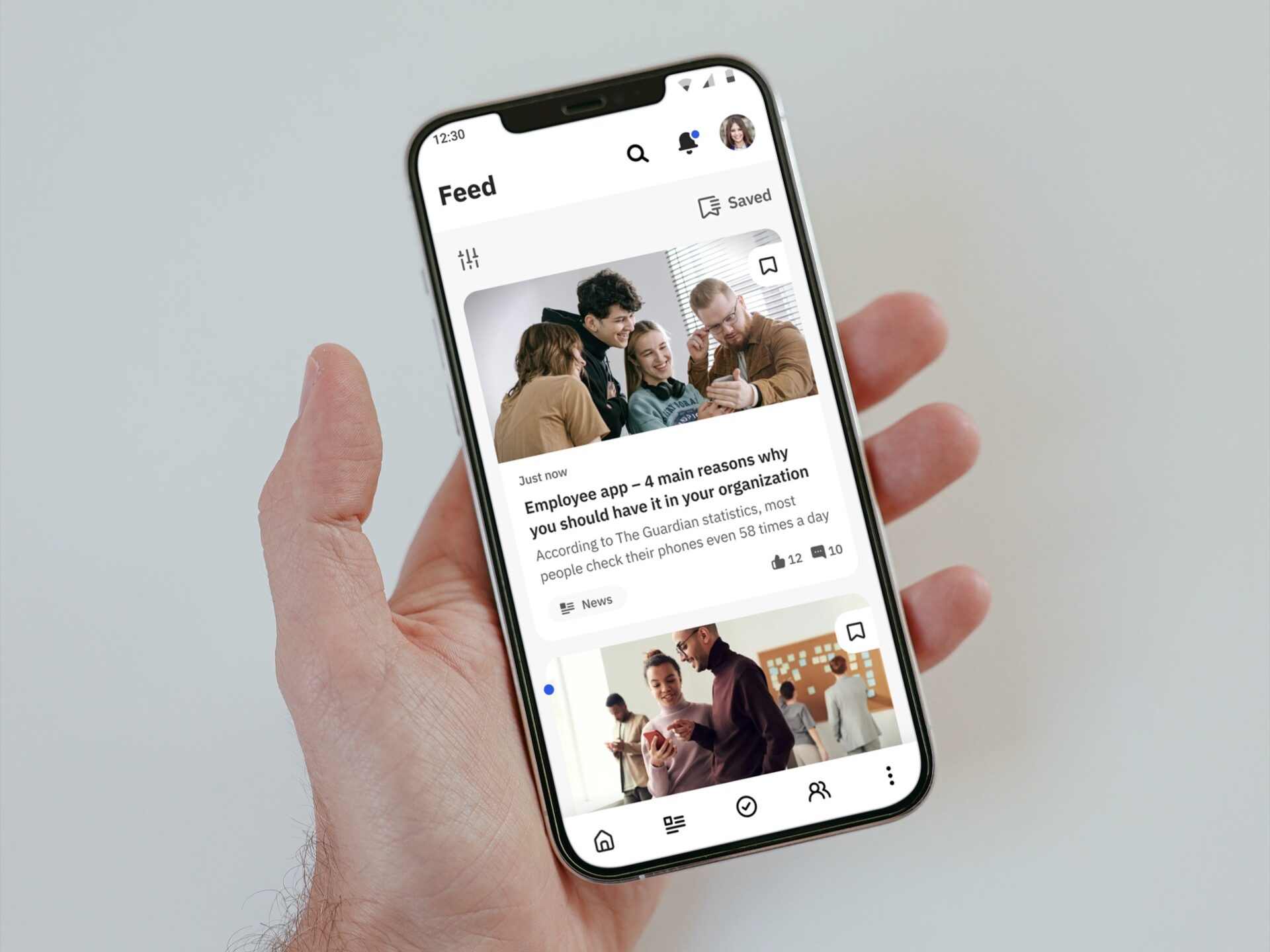 Users can easily filter the Feed by content type and tags, to narrow and personalize the view, and sorting options help people check the newest or most popular content.
No time to read the news? No problem – save it and read it later. All saved items are collected in one place for immediate access.
Tasks – plan your work and get things done
Workai Mobile helps employees be up-to-date with important activities thanks to the Tasks feature.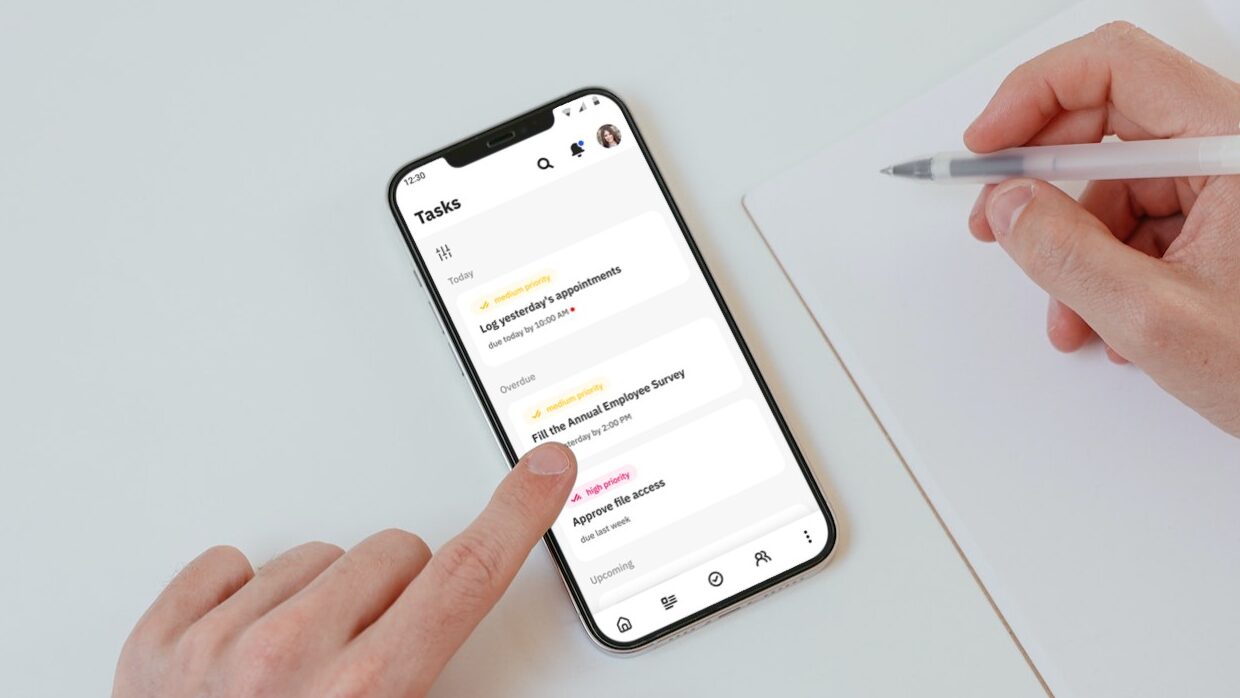 It's a hub of tasks from all the company's systems and there are multiple scenarios where Tasks can be used:
A manager assigns a task to fill a form or survey (e.g. using Workai Forms or any other forms app),
Workai automatically assigns a task to approve page publishing requests,
SAP assigns a task to approve leave requests,
CRM assigns a task to follow up on client meetings,
onboarding system assigns a daily task to go through the process,
… and many more!
Tasks have priorities and due dates, to help employees decide what to do next. Each task can have multiple action buttons, which direct users to a specific action, external system, another app, or just the web browser.
Users will receive automatic reminders about due tasks until marked as completed – no task will be overlooked.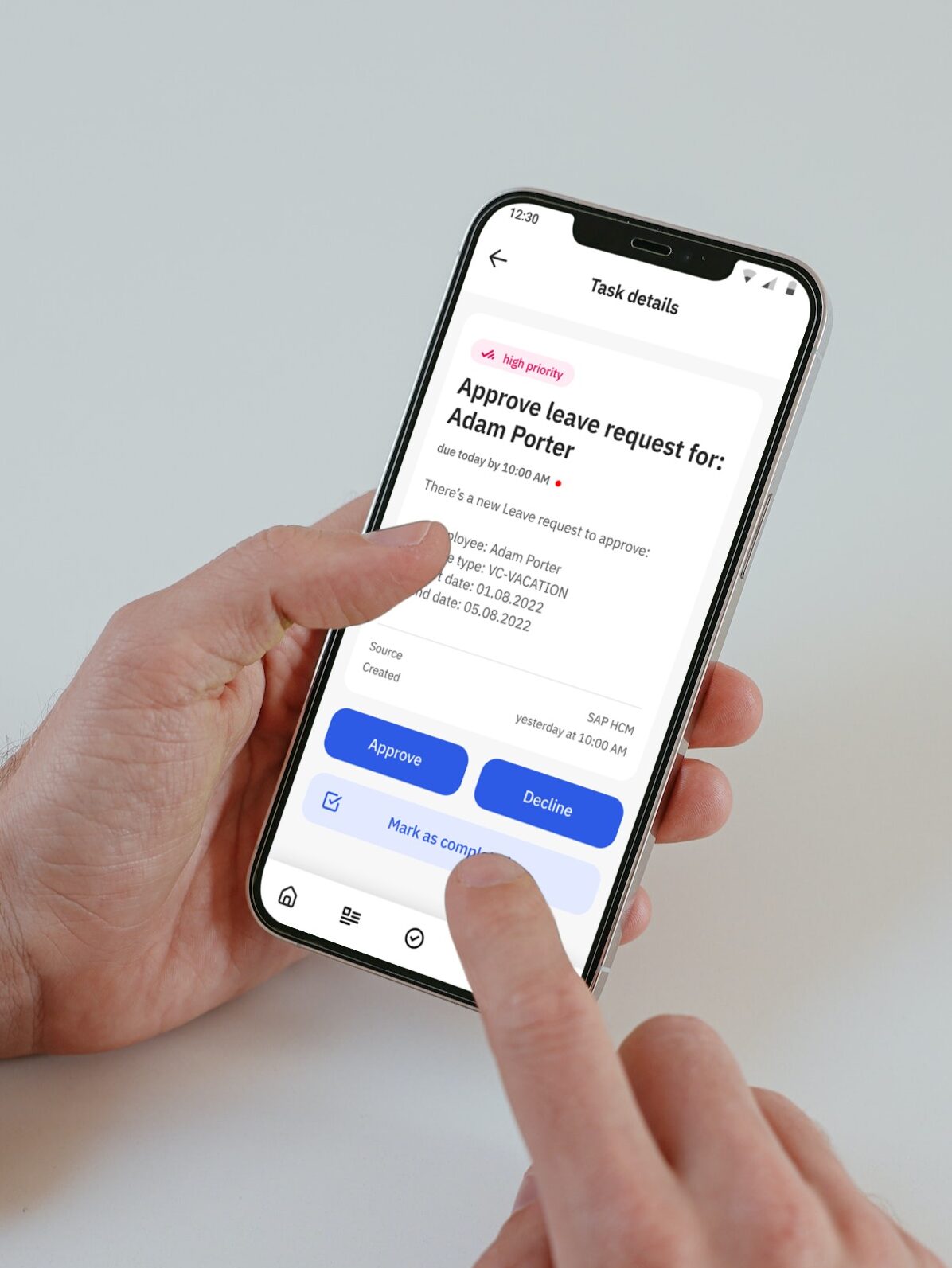 Contacts – find everyone in your company
It's quite obvious, that Employee App contains an employee catalog, but again – Workai Mobile goes a few steps further. All contacts are automatically synchronized from the company's Active Directory, so all contact details are already there.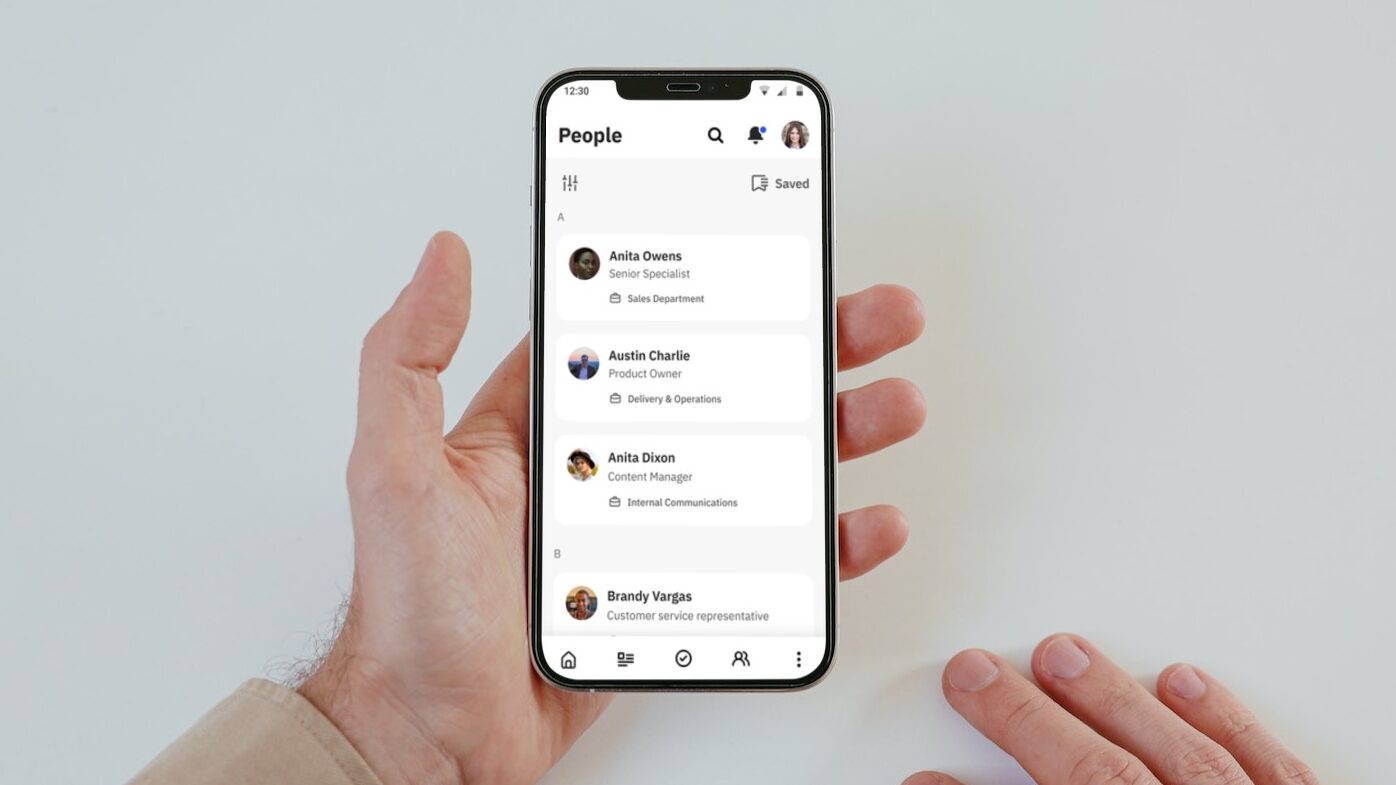 Additionally, users can add more information to their profiles:
What do I do at work?
My skills
I'm an expert in
I know languages
Hobbies and interests
Work experience
Education
Certificates
All of the above helps others to find users by more than just HR data – let's say you're looking for someone to join your project and the requirement is to know Azure DevOps, speak French, and the experience in project management – Workai Mobile allows you to find a perfect match for those requirements!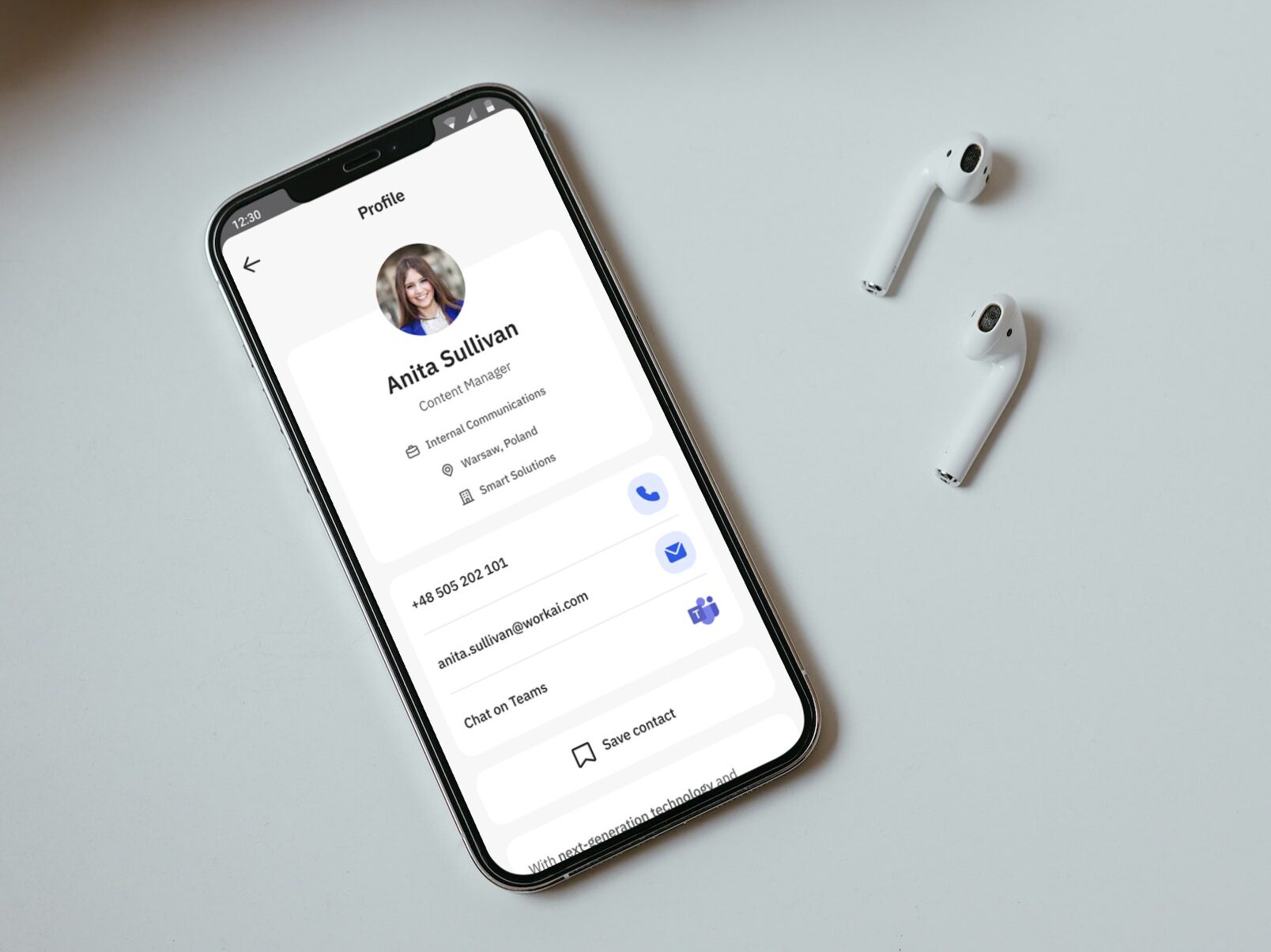 User profiles also have quick contact buttons: phone, email, and Microsoft Teams chat.
A contact can also be saved to a list of frequent contacts, for quick access anytime.
Search – find anything, anywhere, with the help of AI
Search is the most important entry point to a company's knowledge and resources. That's why Workai's Employee App uses Cognitive Search to help users find content, files, people, tasks, links, and more.
Users can access the search from the top bar: when searching from the dashboard, recent searches will show up, and when searching from a specific view (e.g. Tasks), the search will automatically select a specific filter. Results can also be filtered by various parameters.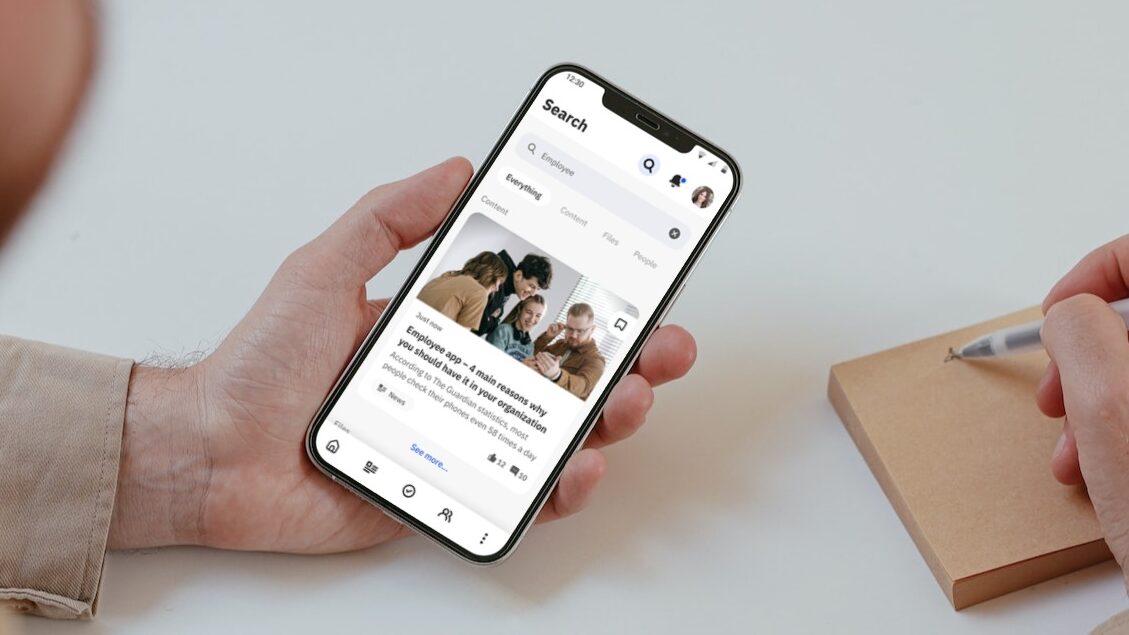 Admins have access to advanced search analytics, to know what people are looking for, and discover trends or missing content.
Notifications – never miss anything important
Notifications Center in Workai Mobile allows employees to quickly take action when needed. Users receive push notifications in various scenarios, for example:
new content has been published in my subscribed category,
a new comment, reply, or @mention, together with other social actions,
publishing workflow activities,
tasks assignment and reminders.
Other companies' systems can also send notifications to Workai Mobile, so users have one notifications center in their Employee App.
IC and HR managers can easily leverage Notifications as an additional channel within Workai Platform's multi-channel approach (other channels include intranet, enterprise social network, newsletters, web push, Microsoft Teams, and more).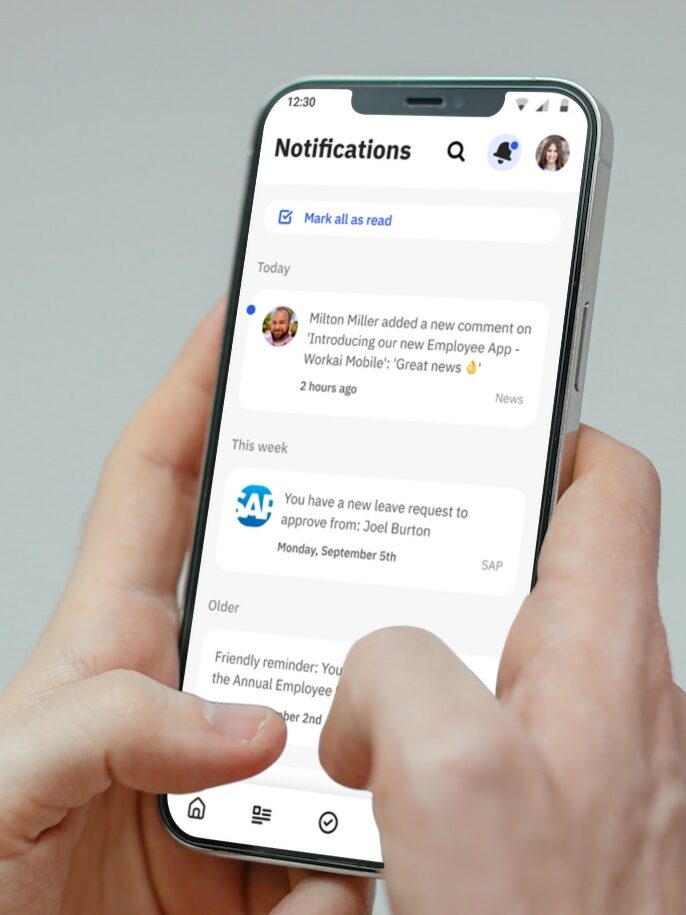 All-in-one Employee App within the Employee Experience Platform
Workai Mobile challenges industry standards and competitors by combining internal communications, social engagement, knowledge management, integrated search, learning, workflows, and employee feedback into a single mobile app that helps companies connect with the entire workforce – from the office desks to the frontline floors.
By leveraging artificial intelligence, award-winning User Experience, advanced analytics, and a multi-channel approach to internal communications, Workai effectively streamlines processes, builds productive experiences, and engages employees across locations and positions: from office to frontline, from sales to logistics
Workai Platform is growing with new communication channels and features: Enterprise Social Network, Microsoft Teams App, Tasks Center, Assets Management, Forms and Workflows, and new integrations. With all the new additions, we aim to streamline the entire employee journey and help companies reach employees everywhere, with less effort and more confidence.
Making your workplace
work for you
A complete, intelligent solution, allowing you to empower your team, get more done, and work better together.