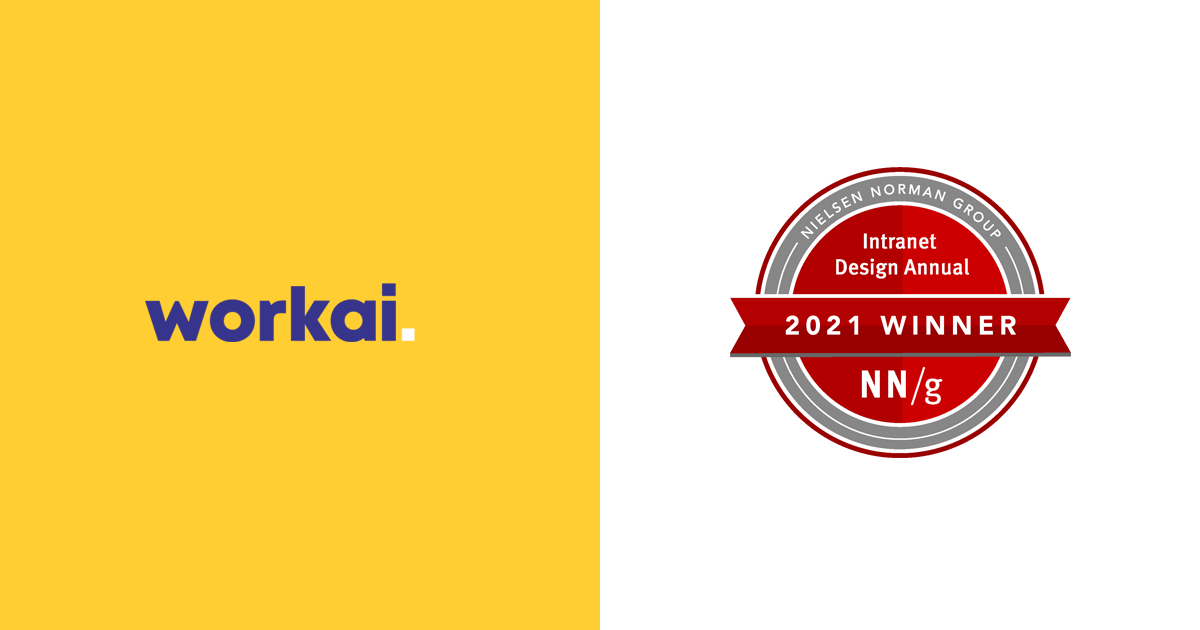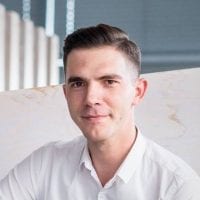 Grzegorz Ciwoniuk
13.04.2021 • 5 minutes reading
Workai wins Best Intranet Design 2021 by Nielsen Norman Group
Nielsen Norman Group recognizes Workai as one of the world's 10 best intranets of 2021. The prestigious Best Intranet Design Annual Award proves that international experts admire Workai's unique features, usability, and approach in providing the best Digital Employee Experience Platform for Germany's largest financial consultancy, Deutsche Vermögensberatung AG (DVAG), among the most innovative Fortune 500 companies. Workai earns top honors from NN/g for the second time in three years.
Best in the world
The consulting company Nielsen Norman Group (NN/g) is the global industry leader in usability research, advising companies on improving internal processes through the human-centered design of products and services. For over 20 years, NN/g has analyzed thousands of intranet platforms worldwide, focusing on user experience, trends, and best practices. The just-announced "Intranet Design Annual: 2021" report features the world's 10 best intranets chosen through an expert review based on design and usability. The intranet platform provided by Workai for Deutsche Vermögensberatung AG (DVAG) is one of the featured solutions – becoming a benchmark for other businesses worldwide.
The DVAG team was looking for a technology platform that would provide the fastest time-to-value possible. A few turnkey candidates were considered during the usual internet research, but workai quickly outperformed the rest with the ease it offered in being able to immediately set up an environment, test it, and quickly assess if it would meet the needs of an organization trying to onboard nearly 3,000 new employees, fast.

the NN/g Report states
Building the best Employee Experience
For DVAG, the new intranet provided by Workai is a fundamental tool that allows for the company's efficient operation. It plays a crucial role in integrating the staff and ensuring flawless customer service. It is used daily by more than 18 000 self-employed financial advisors located all over Germany (mobile, working remotely, traveling, being constantly on the go). It's even more critical during the COVID-19 pandemic, as the intranet has become the one-stop place for all coronavirus-related information, feedback, processes, and instructions.
Workai helped us to reorganize our whole sales communication – our new internal platform now provides a holistic digital employee experience for all of our consultants. The Nielsen Norman Award is confirmation that our unconventional approach and hard work are not only appreciated by DVAG employees but also recognized by international experts.

says Eric Schmid, Marketing Director at Deutsche Vermögensberatung AG.
DVAG's case is a unique example of how our innovative products and approach can transform the employee experience – to support people at every stage of the employee journey and every digital interaction with the company. Being featured as one of the world's 10 best intranets proves that industry leaders also recognize our joint effort, making it an inspiration for others.

says Grzegorz Ciwoniuk, CPO at Workai.
Each of the 2021 Intranet Design Annual winners, no matter the industry, blazed its own trail for how to support and communicate with employees during the COVID-19 pandemic, and the intranet was at the center of these efforts.

said UX pioneer and expert Jakob Nielsen, principal, Nielsen Norman Group
About Nielsen Norman Group
Nielsen Norman Group (www.nngroup.com) in an evidence-based user experience research, training and consulting firm that advises companies on how to improve the bottom line through human-centered design of products and services. NN/g principals Jakob Nielsen, Don Norman, and Bruce "Tog" Tognazzini are world-renowned user experience experts who were advocating human-centered design and usability long before it became popular to do so. Founded in 1998 and headquartered in Silicon Valley, NN/g evaluates interfaces of all kinds and guides the critical design decisions that make websites, applications, intranets, and other enterprise apps and products, achieve their full potential for businesses and their users.
Read the NN/g's prestigious report – Intranet Design Annual.
About DVAG
Around 8 million customers rely on the expertise and experience of the Deutsche Vermögensberatung Group when it comes to financing, provision, and protection. True to its guiding principle of "Thinking of Later, Earlier", it has been offering cross-sector financial advice in more than 5,000 head offices and branch offices for over 45 years. This makes the family-owned company Germany's largest independent financial advisor.
About Workai
Workai is an award-winning Digital Employee Experience platform available as a cloud-based service. Workai helps companies that want to improve internal communication, knowledge management, and employee engagement to deliver personalized and engaging communication and measure its results. What's more, Workai does not require technical knowledge or a lengthy implementation process.
The Workai platform is already being used by hundreds of most innovative organizations worldwide – from local companies to multinational corporations with tens of thousands of employees in the financial, energy, telecommunications, and transportation industries.
This is the second time the intranet provided by Workai has been awarded as one of the TOP 10 Best Intranets by Nielsen Norman Group.
Making your workplace
work for you
A complete, intelligent solution, allowing you to empower your team, get more done, and work better together.