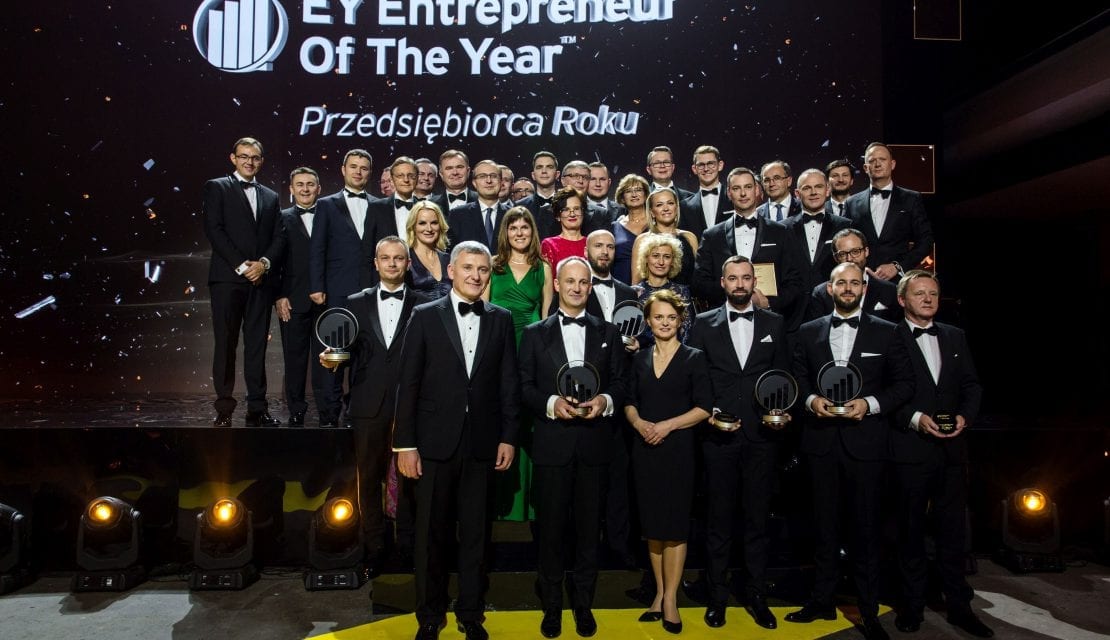 Malgorzata Olszewska
29.11.2019 • 3 minutes reading
Big Success! Creators of workai at EY Entrepreneur of the Year
Łukasz Skłodowski and Grzegorz Ciwoniuk, creators of workai, are finalists of Entrepreneur of the Year contest organised by EY. The jury, made of the most successful Polish entrepreneurs has chosen Elastic Cloud Solutions founders for their dedication and determination in revolutionising the market of internal communication with an intelligent Digital Employee Experience platform.
We are absolutely honoured to be among the best Polish entrepreneurs, especially that in recent years so many innovative start-ups have been founded.


said Łukasz Skłodowski, CEO

Yesterday at the Awards Gala in Warsaw, the winners were announced. This prestigious event was attended by top Polish businessman, media representative and public sector, among other, the Minister of Development, Jadwiga Emilewicz. It was a real celebration of innovation, entrepreneurship and business courage.
The success you have achieved is the kind of success Poland and the Polish people expect


said head of Ministry of Development.
One of the biggest SaaS solutions
Elastic Cloud Solutions has been nominated in New Business category. Independent jury appreciated the vision of workai creators. – an award-winning and appreciated by international experts Digital Employee Experience platform. It is a set of tools improving internal communication, knowledge management and building employee engagement. In practice, the platform acts as a virtual employee assistant who helps to handle all matters in the company, with the support of artificial intelligence and mobile devices. The founders' ambition is to become one of the largest Enterprise SaaS solutions. The company is a provider of innovative software, that is easy to implement, modern and accessible to every employee.
We operate on the global market with a total value of over USD 20 billion and 500 million users. We are constantly developing its product, adding further modules useful in everyday office work. Our mission is "Go Global, Respect Local" – we develop our business on a global scale, but do not forget about our contribution to the development of the local market.

said Grzegorz Ciwoniuk, CTO
Global contest
EY Entrepreneur of the Year is one of the kind, international initiative promoting the best entrepreneurs. The competition has been organized worldwide by EY since 1986 and is attended by nearly 60 countries. In Poland, the first edition took place in 2003. Since then, the initiative has gathered an impressive community around the idea of promoting the achievements of Polish entrepreneurs. It includes the owners of the best Polish companies and other authorities of the business world. This group is constantly growing, offering new participants an unprecedented opportunity to build business relations.
Natural born entrepreneurs
In the competition, entrepreneurs are rewarded by people who share their experience in building and running a successful company. We believe that only practitioners are able to best assess the achievements of candidates. The jury, independent from EY, decides on the best entrepreneur, taking into account such aspects as: entrepreneurship, strategy, international activity, innovation, as well as relations with employees and the environment. EY Entrepreneur of the Year is an initiative aimed at honoring a man – an entrepreneur, a visionary, a leader, not his company.
Making your workplace
work for you
A complete, intelligent solution, allowing you to empower your team, get more done, and work better together.