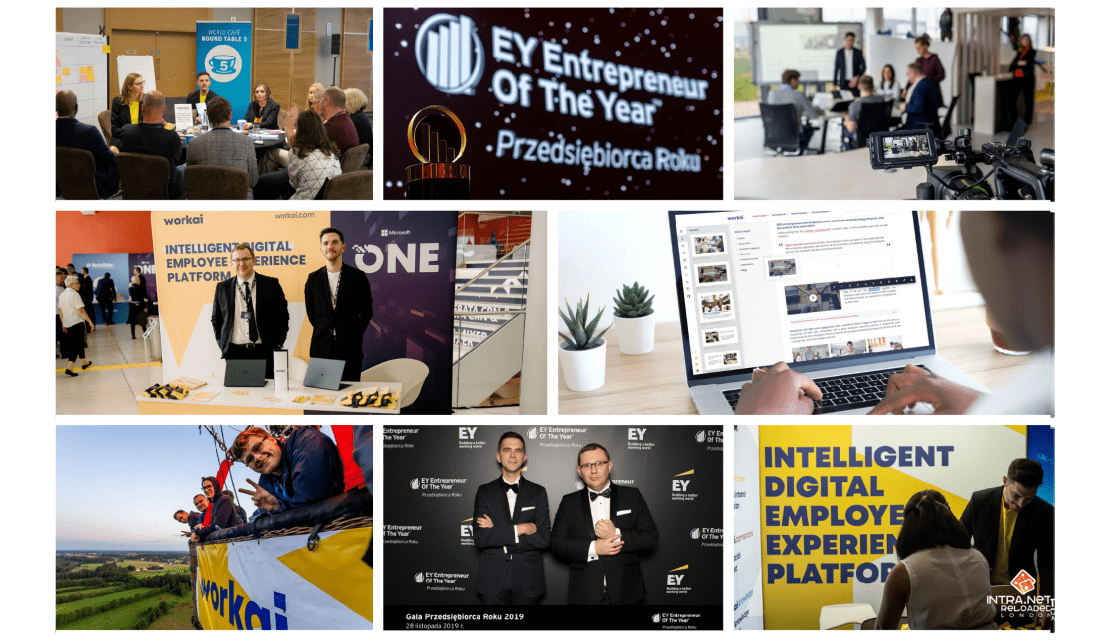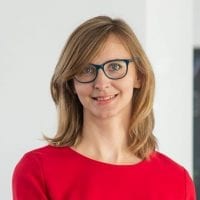 Małgorzata Olszewska
08.01.2020 • 4 minutes reading
Another successful year for workai
workai celebrates the successes of 2019 and sums up the major accolades.
Big world launch, international tour and prestigious awards acknowledging our efforts are what 2019 was for us. There is a lot to celebrate and we hope 2020 will bring even more achievements.
Big launch
First of all, workai was not actually called workai before. Previously it was Elastic Workplace, and the next generation of the product called workai was launched worldwide. After two years of improving our flag product we took all that's best in it: awarded UX-design, insights from clients from all over the world and over 200k users and ways of making SharePoint & O365 working with their best potential.
workai on tour
Workai's internationalization strategy for 2019-2020 concentrates on four European markets: Great Britain, Germany, Switzerland and the Netherlands. We took this decision based on thorough economic and technical research. Our international tour started in the Netherlands in spring 2019. Even before the official launch, workai has successfully entered the Dutch market. The first one was Polish-Dutch Business Forum 2019 .The Forum was a pre-eminent platform for influencing and networking with leaders in business and politics and brought together more than 200 Polish and Dutch top level executives.
Then, we partnered with Unleashing Innovation Internal Digital Communications 2019. Market leading sector event in Netherlands, organized by Global Executive Events. Last but not least, the Polish Embassy invited us to Rotterdam to take part in V4 Startups in the Netherlands event. It is a networking and information platform showcasing innovative efficiency/seed-stage startups from Central Europe.
workai had its UK launch at Intra.NET Reloaded conference in London, Intranet.Reloaded is the UK's most innovative and industry-driven event on digital workplace, employee communications and technologies of the present and future. It was a great occasion for workai to be presented for the very first time in the UK.
Then the Swiss premier of workai took place at i2 Summit 2019 in Zurich. The i2 SUMMIT 2019 offered us an exchange of experience in the establishment and implementation of such concepts in Swiss companies.
Also, we took our first steps in the US. As we want to be always on top on the latest world trends in the cutting edge technology to be able to serve top notch products for our clients, we went to Microsoft Ignite, the biggest Microsoft event in the world.
Being part of international community both around digital workplace and new technology, we partnered with the European Sharepoint, Office 365 and Azure Community conference in Prague, Czech Republic. Last but not least our team participated in key business events: European Economic Congress, Infoshare, Impact19, Economic Forum Poland. Also as Microsoft partners we took art in Microsoft Innovation Summit and Microsoft One.
3rd birthday
To celebrate our 3rd birthday and the global launch of workai, our team migrated to clouds. We literally flew away to the sky to get to know the clouds from a different perspective than the digital one. In two big balloons, we literally flew away to the sky to get to know the clouds from a different perspective than the digital one. In the end, in Elastic Cloud Solutions sky is the limit!
AWARDS
ESPC Community Awards
Workai was nominated in 3 categories that's how we were the most nominated platform in the whole European community with its 3 nominations in categories: Best Intranet, Best Azure Solution and Best Social Strategy.
EY Entrepreneur of the Year
Creators of workai: Łukasz Skłodowski, our CEO and Grzegorz Ciwoniuk, our CTO have become finalists of Entrepreneur of the Year contest organised by EY. The jury, made of the most successful Polish entrepreneurs has chosen Elastic Cloud Solutions founders for their dedication and determination in revolutionising the market of internal communication with an intelligent Digital Employee Experience platform.
Forbes 30 under 30
Grzegorz Ciwoniuk, our CTO, who got on the prestigious '30 under 30' list by Forbes Polska. The list features 30 most talented and ambitious entrepreneurs who successfully disrupt business before they turn 30. We are proud that Grzegorz's business determination was acknowledged in this high-level ranking.
What's coming
We are developing very fast and we don't plan to stop. In 2020 we will continue exploring the European markets. What is more, we are planning a major research project in USA. There are new features and brand new modules coming to workai we're all excited about, so please stay tuned!
Making your workplace
work for you
A complete, intelligent solution, allowing you to empower your team, get more done, and work better together.