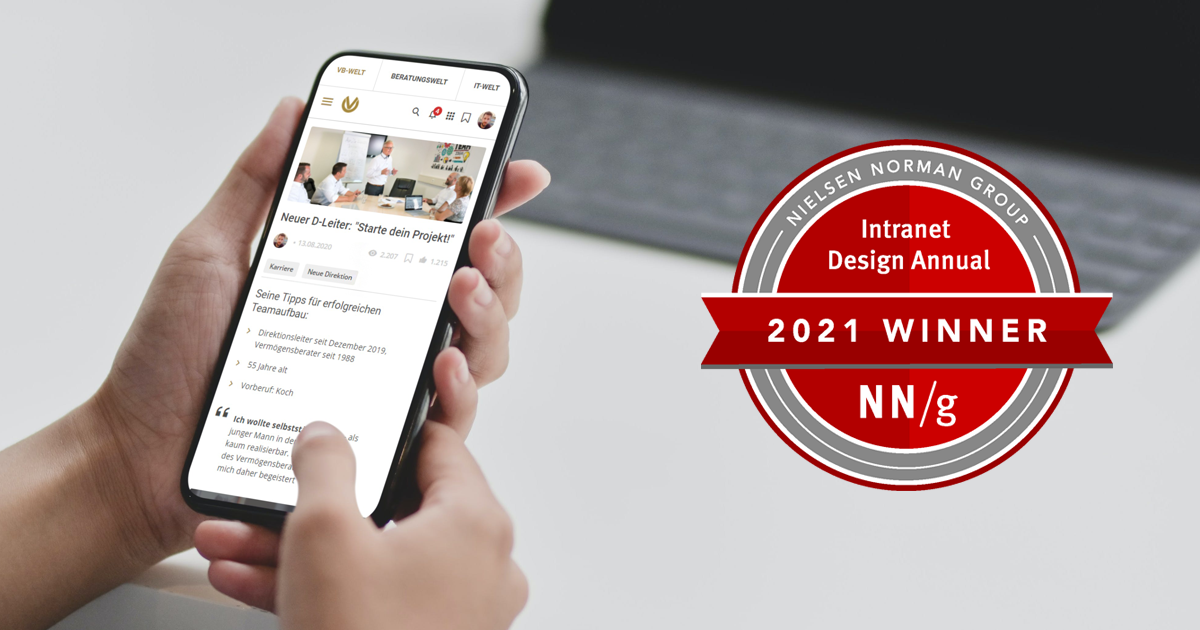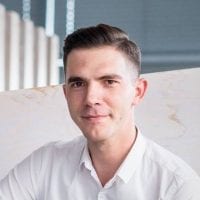 Grzegorz Ciwoniuk
16.04.2021 • 7 minutes reading
How to become a Nielsen Norman Group Intranet Design Annual winner?
NN/g just announced that the Intranet provided by workai for DVAG has won the prestigious Nielsen Norman Group Intranet Design Annual 2021 award. This is the second time NN/g recognizes workai's products and deployment as the world's best-designed Intranet, so we might have some experience providing the most employee-centered internal communication tools on the planet.
Think about the bigger picture and introduce the Employee Experience factor to your intranet project

Choose the technology platform that brings the most value in the shortest time, instead of building complicated bespoke systems

Analyze Employee Journey and feedback to make decisions based on data collected

Intranet design is more than a nice and modern UI – it's the combination of user scenarios, information flow, and employee experience
Set goals focused on Employee Experience
For DVAG, Germany's largest financial advisor, the decision to start a new intranet project came with integrating another sales organization (2.800 advisors). They needed a reliable, modern, and easy-to-use platform to onboard new employees, describe new processes, and share knowledge. The time was tight, so instead of building the solution from scratch, they decided to use workai and make necessary adaptations in the agile approach.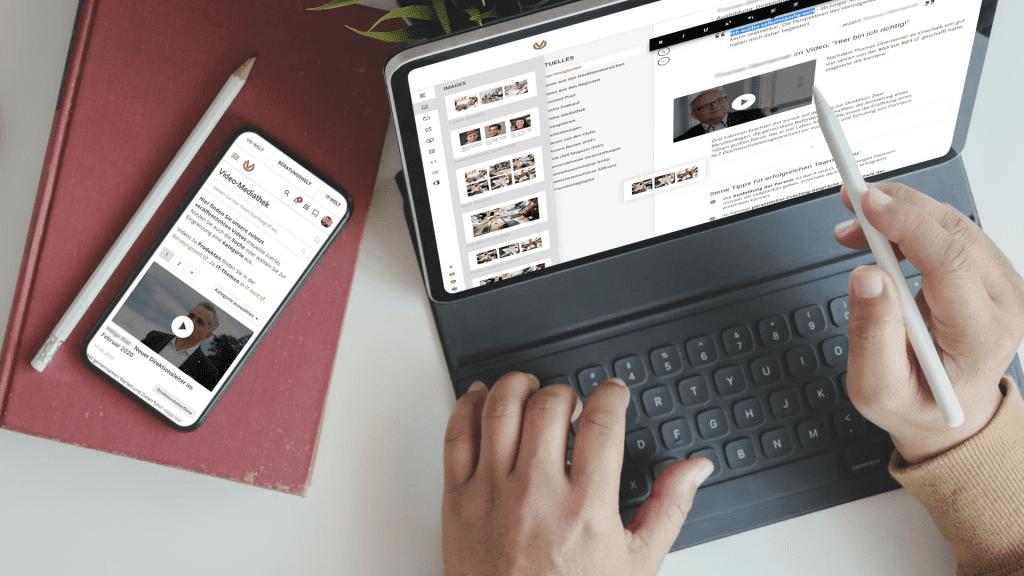 With this general purpose in mind, eight ambitious goals for the new platform were set:
Provide personalized, engaging, and always relevant internal communication to all people working in various locations, at different levels, and within the quite complicated organizational structure
Provide instant access to ever-changing product knowledge with the google-like search experience
Engage consultants with senior leaders and promote the company's culture
Provide detailed statistics about users' interactions and engagement, internal campaigns results, content performance, search, media, files, heatmaps, and more, with a way to report the results to Board Members and with maximum privacy (without sharing the data with public providers, like Google Analytics)
Create multiple feedback channels for users to report bugs, report invalid data, outdated content, ask for support, and give opinions
Provide a platform to publish and consume videos and podcasts on the go
Integrate various external systems and data in one place (financial, stock, charts, contacts, and more)
Provide modern, intuitive, and extensive visual CMS to allow non-technical users to create and update content easily, with the consistent and responsive intranet design
Those goals could be summarized by just one sentence: "The general transformation of Employee Experience." Focusing on employee journey and employees' interactions with the company's digital resources has a huge impact on the Intranet's final form and strategy.
Choose the right technology platform
The DVAG team was looking for a technology platform that would provide the fastest time-to-value possible. A few turnkey candidates were considered during the usual research, but workai quickly outperformed the rest with the ease it offered in setting up an environment immediately, test it, and quickly assess if it would meet the needs of an organization trying to onboard nearly 3,000 new employees.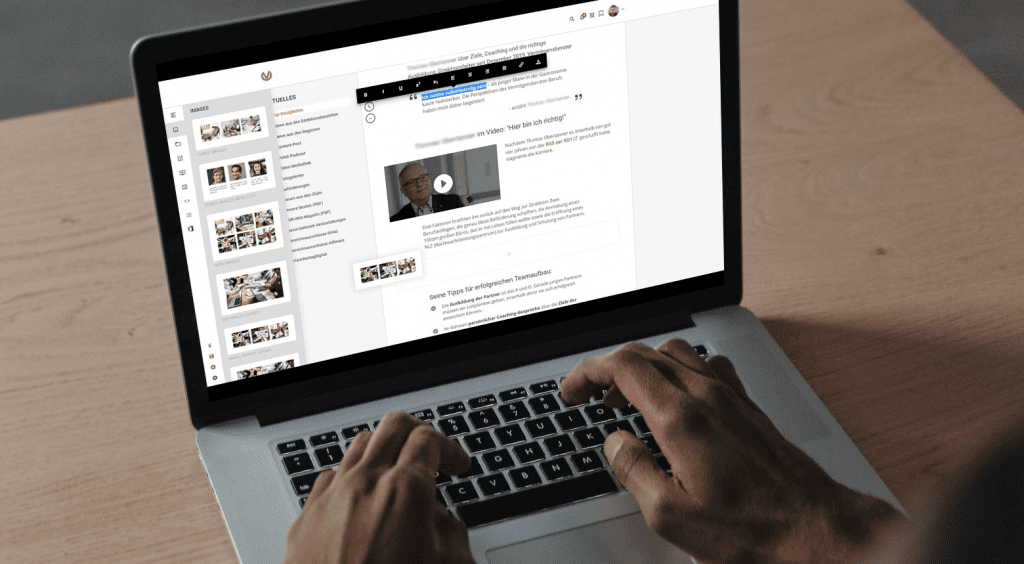 During the technology research, DVAG were looking for a tool that:
Is easy to set up within a very short timeframe
Has a modern intranet design and could be easily adapted to corporate branding
Is easy to use for non-technical editors
Focuses on User Experience
Is accessible on mobile devices
Has personalization and content targeting features
Has extensive search features
Can measure users' interactions in real-time
Is not expensive and doesn't require additional licenses
Has a roadmap of innovative features
They also wanted the tool to be easily expandable to very custom needs – new content types, integrations, custom SSO, APIs, and more.
All initial criteria were met out-of-the-box by the workai platform, adding even more innovative features to the scope of the project, but most importantly:
Rapid deployment, onboarding, and quick start-to-launch
Easy to use visual CMS and no technical or graphic design skills needed for content management and managing the intranet design
Multiple content types and interactive templates (Pages, Sites, News, Events, Newsletters, Videos, Podcasts, FAQs, and more)
Content personalization based on users and groups
Real-time, advanced analytics with data ownership
Intelligent and personalized search
Scalable and safe IT infrastructure in the cloud
Regular product updates from workai, according to the roadmap and DVAG's needs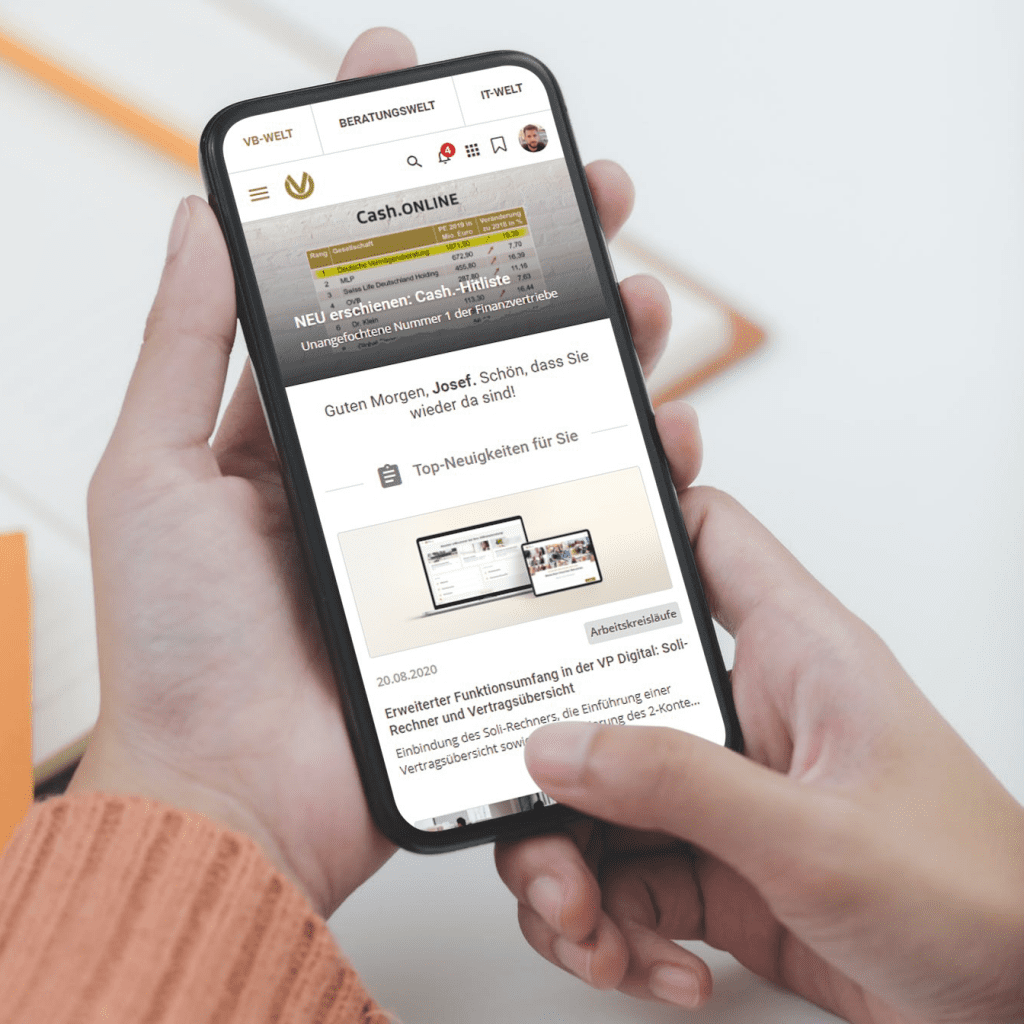 Choosing workai as a base for DVAG's new platform meant that most of the design and UX work was already done.
New features were built with the iterative approach – from ideas to mock-ups, intranet design, test, feedback, and fix, to implementation. The team can deliver finished features to the test environment and present it to stakeholders to get opinions – users can use the feedback button embedded on each page for the effortless feedback loop.
Get feedback, analyze, improve, repeat
As DVAG provides digital assets crucial for their consultants' daily work, they need to ensure that the correct information reaches them at the right time. The best way to measure internal marketing campaigns, outreach, and user engagement is to use advanced, enterprise-level analytics with privacy in mind.
To provide a complete digital employee experience, DVAG needs to think about it as customer experience – run internal campaigns, set goals, measure, improve, and repeat. CTRs and ROIs also exist in intranets – the Intranet or knowledge base content is a piece of personalized information that users should reach using different channels and devices, so it's essential to run omnichannel campaigns based on audiences and users' actions. Then get all the insights, compare, and decide what they should publish next and using which channel.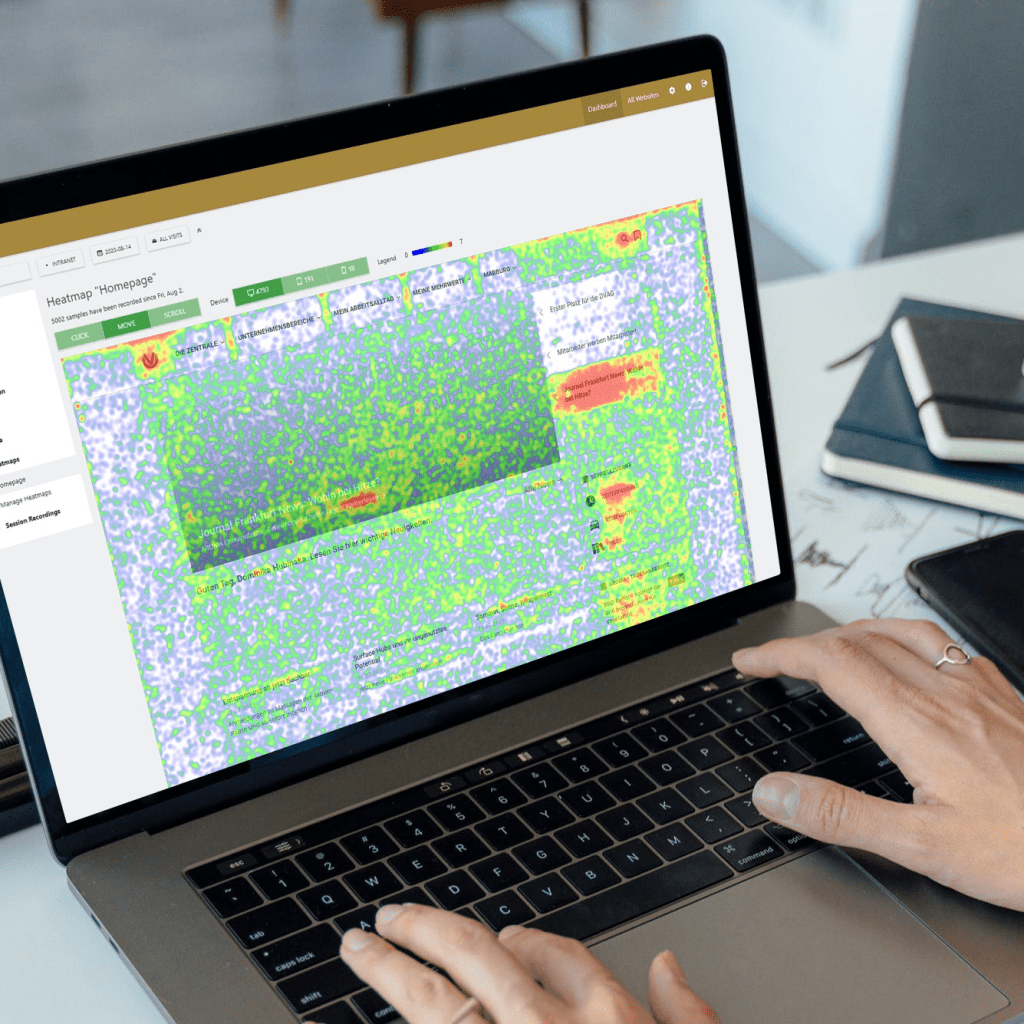 Workai's Workplace analytics platform allows for tracking the entire user journey:
User profiles – a lifetime journey of individual users shown as summary cards.
User behavior and information flow
Goals, campaigns, and KPI measurement
Search analytics
Files' downloads and opens
Heatmaps and session recordings
Media playback analytics
DVAG also collects softer measures – user feedback. There are multiple ways users can submit their opinions:
The floating "Feedback" button allows users to submit a form from any page and attach a screenshot
The rating feedback – we can enable it on any page, so users can rate the content from 1 to 5 stars and give a few words of opinion
The search feedback – users can submit the opinion on search results by selecting the option "Yes" or "No" to the question "Did you find what are you looking for"
Mobile app feedback – users can select rating with smiles and provide a short text in the apps' settings
Sentiment and NPS – employees can provide their opinion about a specific topic, set their mood, or rate the last event – using emojis, stars, or a 10-numbers scale
This feedback is collected in one central place, so publishers and admins can browse, analyze, and respond to opinions. The team also uses Heatmaps, session recordings, and user flow analytics to find areas to improve – in terms of UX, content, and intranet design.
How does workai help companies build award-winning Employee Experience Platforms?
At workai, we believe people should not be limited by complicated technology, but tools should support them in executing their internal comms and HR strategies with more confidence and with better results. That's why workai's comms-friendly drag-and-drop CMS allows people without any need for IT or graphic design skills to publish engaging, personalized, and high-performing content using ready-made content blocks and content types. The intranet design build with workai will always look consistent, responsive, and modern – no matter the device or screen size.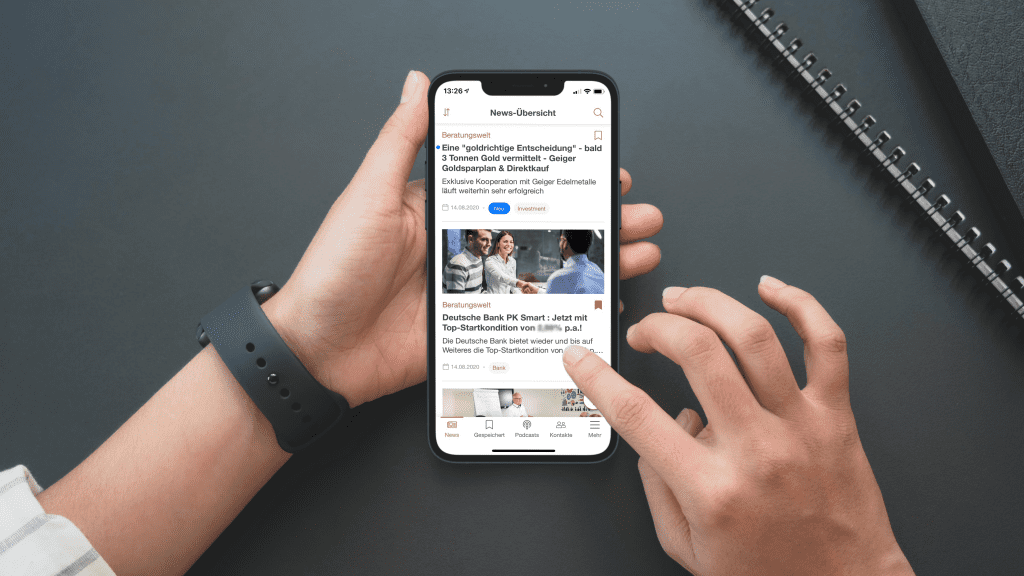 Enterprises undergoing the digital transformation that focus only on innovative customer experiences overlook a critical success factor: Employee Experience. Workai is the solution that unites everything into one, personalized and adaptive Employee Experience Platform, where employees can instantly find all needed information, get tailored updates, listen to podcasts, watch videos on the go, collaborate on documents, and engage with others.
We work closely with hundreds of enterprises to ensure that each workai feature supports people responsible for internal communication and employee engagement in their daily challenges – for remote, hybrid, and onsite workers.
Making your workplace
work for you
A complete, intelligent solution, allowing you to empower your team, get more done, and work better together.