eurobank understands that efficient access to knowledge is a key factor for the improvement of customer service quality. High efficiency has also a direct influence on the high adoption of knowledge management tools. When employees find the answers in the blink of an eye, they trust the digital solutions more and use them more willingly.
workai deployed in eurobank changed the way the employee work with information resources. Thanks to the user-friendly interface, intuitive information architecture and AI-supported search they not only work faster but also have the chance to improve their customer relations.
Employees able to find information quickly are perceived by bank clients as well informed, always up-to-date, smart and helpful. Also the better and easier access to knowledge – the more attention they could devote to customers and the more efficiently they would serve them.
Communication with employees and between employees is key for us. Communication tools influence atmosphere, comfort, but also the effectiveness of work. And this can translate into customer service.

More efficient information flow means better working atmosphere and a higher quality of service. So it means more satisfied employees and customers.

Magdalena SuchanekManaging Director, eurobank
Empowering people
To change the internal communication from one-way, top-to-bottom to bilateral – this was an unconditional requirement of eurobank. The bank is focused on building connected company culture, listening, monitoring satisfaction and above all on engaging employees in content and knowledge creation.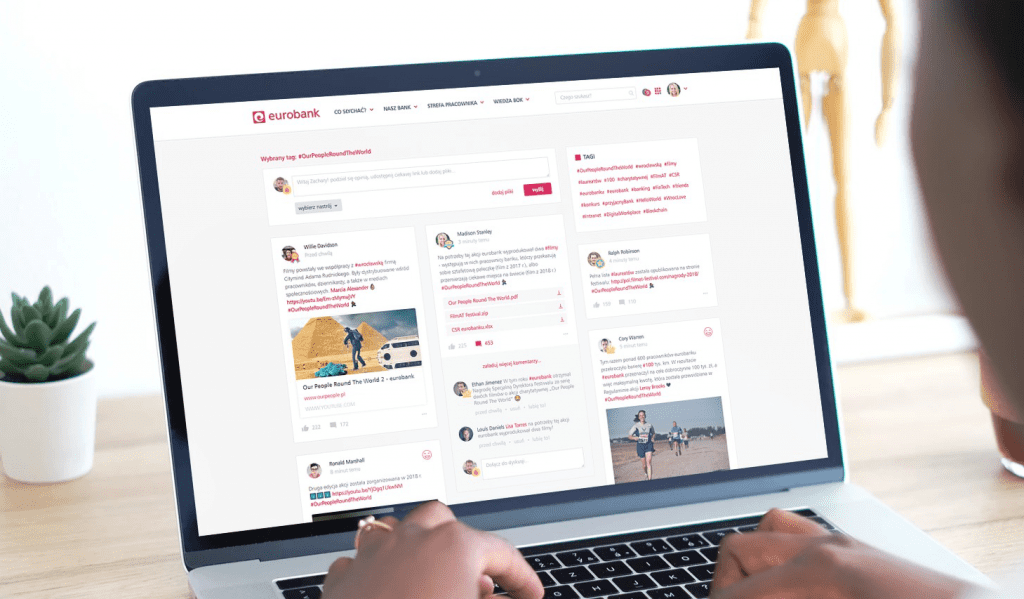 workai has been designed with full awareness of the impact of end-users' contribution to content creation. They share their opinions, comment on the content, showcase their projects, advise each other and share the know-how acquired directly from their daily work.
Strengthening bottom-up communication, increasing employees commitment to share knowledge or build community through a number of social features is a change driven by the new tool.

That is a good solution for organizations interested in creating digital workplace for their staff.

Monika KulejCommunication Manager, eurobank
Harnessing the collective knowledge
eurobank editors' team can easily build rich knowledge bases around specific topics using ready-made blocks and content types. Intelligent search empowers employees to find the right content and uploaded files quickly and more efficiently. The process-driven approach to document management helps eliminate the problem of outdated files and procedures, which leads to better confidence in the reliability of in search results, and thus to better adoption of the platform.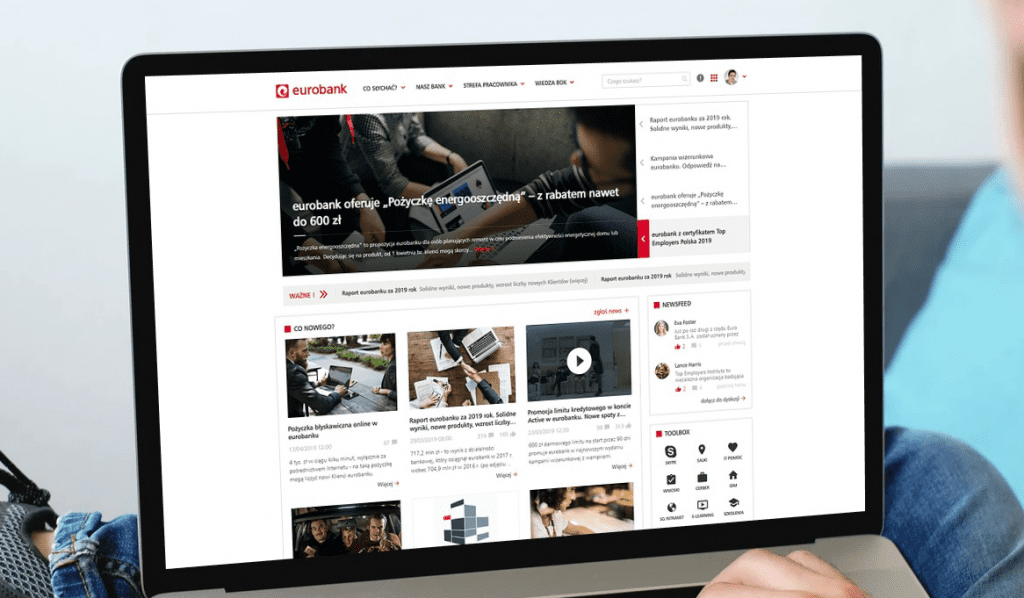 The most active employees can be recognized thanks to innovative analytics reports. In a dispersed organization it is also a useful tool for finding natural experts and recruiting them in to the support team that complements the automatic operation of the knowledge base.
User-friendly and multifunctional for better adoption
For such a powerful and multifunctional tool, workai is surprisingly easy and fun to use. The content management system does not require any technical knowledge and allows editors to easily add elements to pages via a drag and drop interface.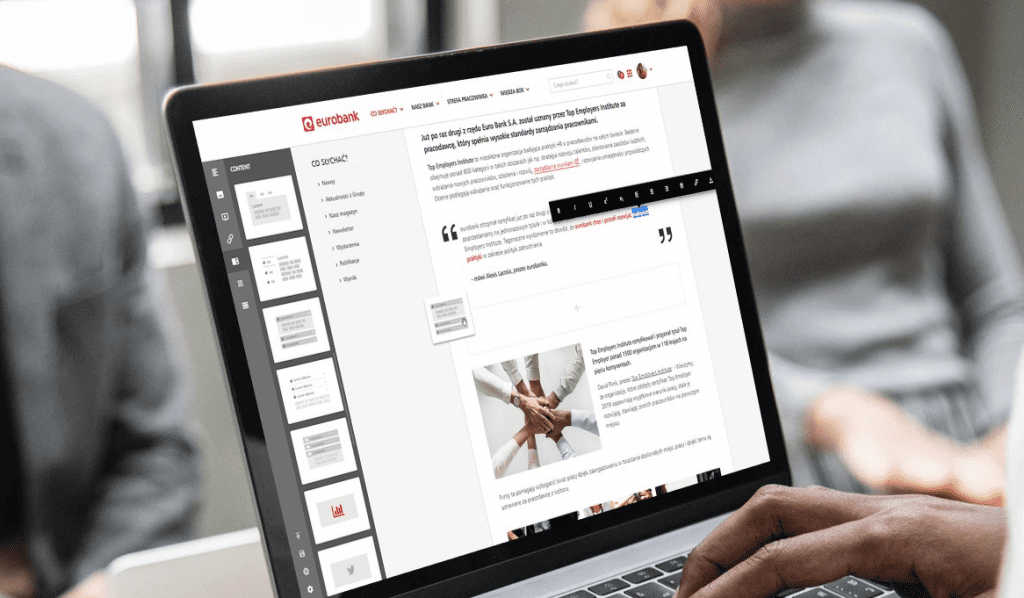 A complete digital employee experience
workai features allow connecting people across the whole organization to crowdsource ideas, share best practices and harness collective knowledge. It's an omnichannel tool with proven performance on different devices.
Its UI was built with the understanding of characteristics of all types of work: office, branch client service, mobile, etc. – to include employees who, due to the type of duties, have limited access to computer equipment.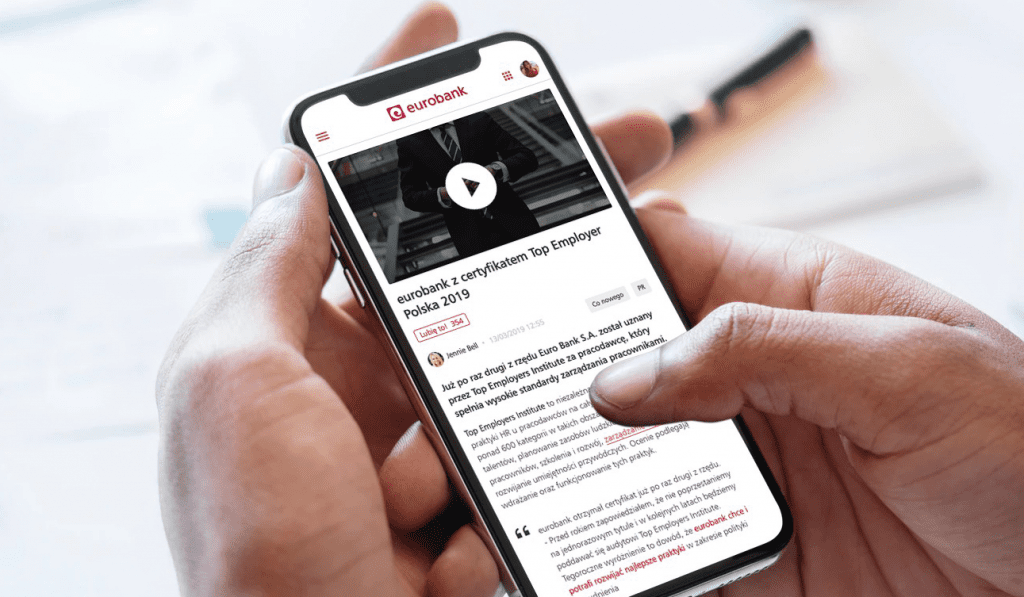 The platform goes beyond the digital workplace – it connects the interactive tools with the actual, physical office spaces. For a company with such a dispersed structure, the ability of remote office management (like booking a conference room) is a great improvement.
Tap into your company's
collective

knowledge
Break down the cultural and information silos to unlock untapped knowledge within your organization.