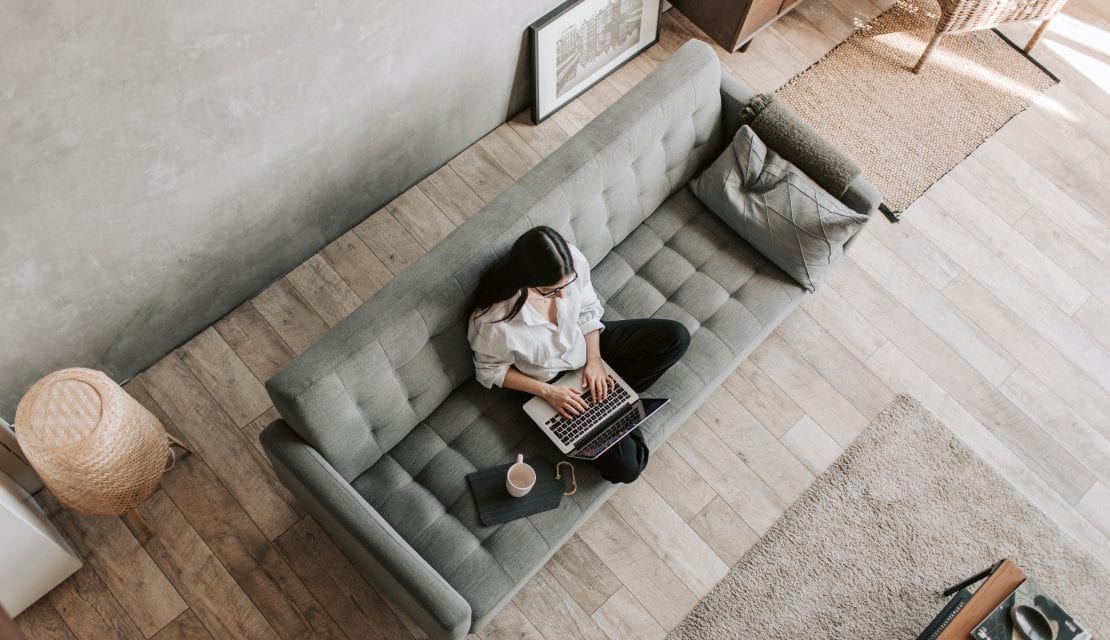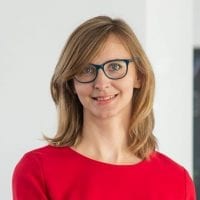 Małgorzata Olszewska
17.11.2020 • 8 minutes reading
How to make your internal communications more engaging for remote workers?
The world has changed, so the internal comms. Even before the world-going-remote experiment, it was challenging for IC managers to keep people informed, engaged, and connected at the same time.
Now, with the rapid change of approach, multiple new tools, and no in-person interactions, it's more important than ever to find and execute new strategies to make the internal communication clear, straightforward, and engaging at the same time – for people working remotely at their homes, and those preferring a hybrid way of working.
Future is remote
The number of businesses that have adopted remote work since the beginning of the crisis is difficult to quantify, but Gartner experts share some hints in one of their latest surveys. They surveyed 800 global HR executives and found that 88 percent of companies allowed or needed workers to work from home, regardless of whether they showed symptoms associated with coronavirus or not.
However, along with its many benefits, remote work tends to make workers feel separated, directly affecting the team's success and employee retention. Here are some tips on how well-executed internal communication can engage the workforce collaborating remotely.
Diversify voices and invite employees to co-create your internal comms
B2C marketing thrives on the power of brand ambassadors. Marketers capitalize on popular and recognizable names, from actors, YouTube stars, and Instagram influencers, to help get their messages across. A company's words, spoken out of ambassadors' mouths, seem more real and more trustworthy. Why not make employees your brand ambassadors and let them co-create internal content? In the end, we pay more attention to what was delivered by a familiar person or one that shares the same experience or plays a similar role.
PRO TIP: Always try to find the most suitable person to deliver critical information. For example, an important safety announcement is best provided by a worker who was actually affected by an incident or a near miss. Let proven internal influencers tell their stories and use them to promote your culture and company values.
Another way to engage your employees personally is to tag particular people in your message. For example, in the intranet article, you can convey a new concept, a new program, an update from a remote colleague. Social tagging alerts them to the mention and allows individuals who may not have met in person for a while to reconnect. Also, it implies that the employee is respected, significant, and essential to many activities within the business.
Let your employees play games
The popularity of online gaming continues to explode around the world. So it's not surprising that organizations are leveraging this technology trend to ignite positive employee engagement and spark interactive communications. Enterprise gamification takes advantage of humans' desire to compete, even against ourselves.
For example, if your team isn't very active on the company intranet, they need some incentives. They will feel way more motivated to be interacting on internal social media posts and thus fulfill the goals you are trying to accomplish by designing a way that encourages the employee to play a game that provides points, status, and incentives. A jogging scoreboard in all the regional offices may be an example of this.
Teams may be formed to play in a national or international contest within divisions, the results of which are reported on the company intranet. It allows individuals to join and observe the results, exchange congratulations. It's a great way to encourage employee interaction, as well as an effective means for getting people to adopt internal communication channels.
Spice up your message with podcasts, videos, hashtags, emojis, and GIFS
🔊 Podcasts – we highly recommend creating podcasts to distribute critical internal organizational messages, inform and integrate teams. The information delivered via podcasts is perceived to be more engaging and digestible. Podcasts are also a perfect way to provide access to relevant content to your non-desk staff and sales and support teams that are always on the go. Such workers can benefit from features such as offline listening and "car mode" and get familiarised with the content while traveling.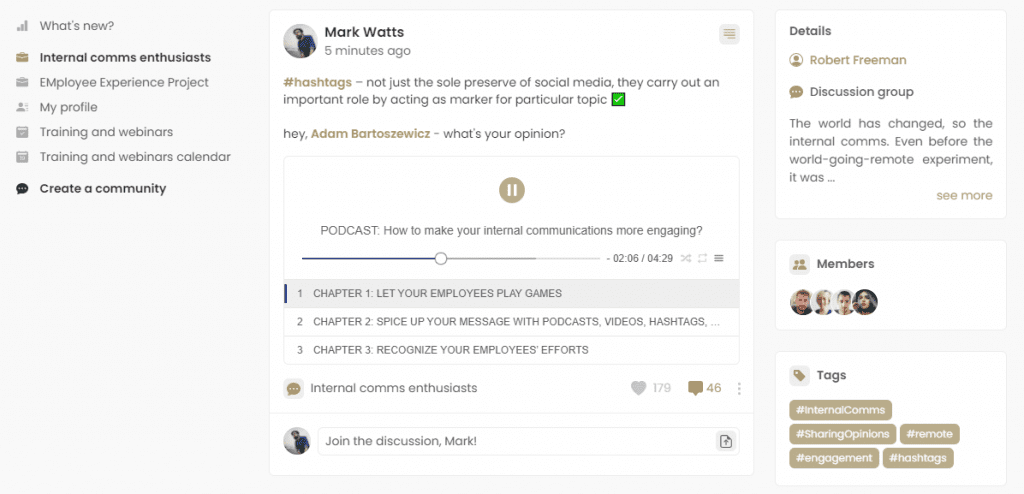 🎬 Videos – watching a short movie to learn about new processes or corporate updates is quick and fun. It's much easier to convey emotions and tell a story more energetically in a video than via words on a page. It is also a video that makes it less demanding for your employees to relate to the message. You just need basic equipment to shoot a video, edit it, and then publish on your internal communication channels.
🔖#Hashtags – not just the sole preserve of social media, hashtags carry out an important role by acting as a marker for a particular topic. The benefits are considerable, and hashtags can have a useful role to play in aiding collaboration by grouping specific conversations so that those who choose to be involved can contribute and be heard. They help create a hub of accessible information by making it easy and efficient to search for and find the latest information about important topics such as updates on pandemic related restrictions etc.
😀 Emojis – you can use emojis to make the message more informal, personable and inject humor into the digital conversation. Emojis help to break down barriers in formal communication and bring conversations down to a personal level. However, emojis should be used carefully and selectively in a business setting, as in some serious circumstances, they are not appropriate – for example, in legal documents.
📺 GIFs – just as people use GIFs to communicate their reactions to something, so too can companies. GIFs are more visually engaging and memorable than static images; they're mobile-friendly and work on various platforms; they can make complex topics much easier to understand. They're faster and cheaper than videos. Animated GIFs can bring numbers to life, and they're especially great for simplifying complicated ideas.
Recognize your employees' efforts
When working remotely, people tend to feel disconnected. Communication can drop, spontaneous interaction by the coffee machine is now non-existent, and we have a to-do list to be executed. Gradually, this can harm the quality of work, productivity, and attitudes.
Human beings need acknowledgment and attention, and this can be provided efficiently through the company intranet. The recognition process can be developed to suit the company's needs and values. The most popular ones are where the entire organization can recognize a colleague for excellent work, good support, or an act of kindness. When you focus on appreciation and joy is contagious, it spreads when these everyday deeds are shared with staff; they carry enormous influence. Showing gratitude to others can have a profound effect on your workplace's emotional contagion.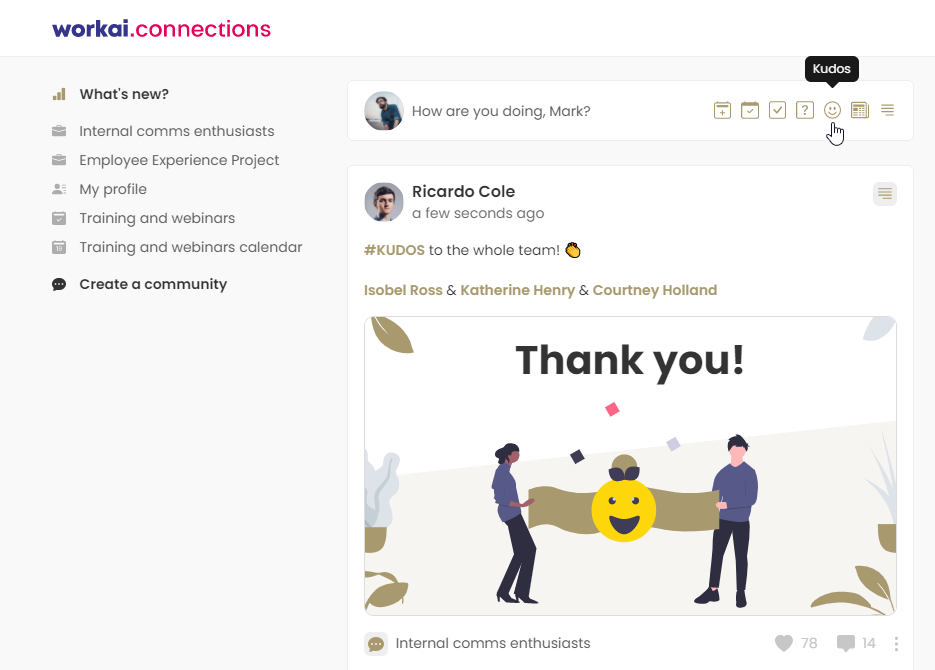 According to Gallup's study, employees who receive recognition regularly increase their individual productivity, receive higher loyalty and satisfaction scores from customers and are more likely to stay with their organization.
More important than ever
The dry, formal, and top-down information flow is no longer enough to connect with your remote workers. Your employees need much more, and when they're isolated, they expect it more than ever.
Personalized, always relevant, and visually attractive: your comms need to grab the attention of your remote employees. While some workers are just focused on getting their job done and returning to their private lives, your comms can do more than only provide dry information.
Efficient comms can be inspiring, supportive so that employees can contribute to the culture, establish efficient working relationships, and feel more empowered to fulfill their objectives.
How does workai help internal comms managers engage remote workforce?
There are multiple strategies and tools that can support managers in the process of keeping people informed, engaged, and connected – intranets, SharePoint sites, Teams, Zoom, Slack, Yammer, and many many more. The key is to leverage the tools that can give you the holistic overview of internal communication across all channels, departments, and locations – to measure the impact act faster in an ever-changing distributed work environment.
At workai, we believe people should not be limited by complicated technology, but tools should support them in executing their internal comms strategies with more confidence and with better results. That's why workai's comms-friendly drag-and-drop CMS allows people without any need for IT or graphic design skills to publish engaging, personalized, and high-performing content using ready-made content-blocks and content-types.
👉 Book a personalized demo to see how workai supports internal comms managers with remote employee engagement.
With workai, IC managers can finally run personalized internal campaigns, add any content and medium (news, banners, popups, newsletters, sliders, videos, podcasts, files, documents, and more), set the exact audience, and measure the impact with real-time analytics.
workai also supports remote and distributed teams with effective engagement boosters – social communities, surveys, kudoses, crowdsourcing campaigns, lotteries, events, live virtual townhalls, and more – adding integrations with the tools you already use.
We work closely with hundreds of enterprises to ensure that each workai feature supports people responsible for internal communication and employee engagement in their daily challenges – for remote, hybrid, and onsite workers.
Making your workplace
work for you
A complete, intelligent solution, allowing you to empower your team, get more done, and work better together.